Indian poultry firm Venky's in new furore
Chicken firm under fire from advertising regulator
A leading Indian chicken company has been ordered to modify or withdraw a 'misleading' advert, which downplayed the risks of antibiotic resistance from poultry farming.
A subsidiary of the Venky's VH group (one of the biggest chicken producers in the country which supplies food outlets including McDonalds, KFC and Pizza Hut) bought a front page advert in the Times of India in February 2018. It did so in response to an investigation by the Bureau, showing that Venky's sold antibiotics to farmers to make chickens fatter. This process helps breed superbugs which can infect humans.
The advert, placed by All India Poultry Development and Services, was titled "Eat chicken, it's healthy and it benefits you" and featured Indian tennis player Sania Mirza as a brand ambassador. It said the Indian poultry sector is "prudent" about its use of antibiotics and that the drugs are used "purely for therapeutic purposes". It also printed study results which appeared to show residue levels of antibiotics in Indian chicken meat are much lower than permitted in the European Union.
It claimed that "vested interests from Western countries through NGO foundations" appeared to be trying to spread "false and misleading information alleging indiscriminate usage of antibiotics."
Donate to the Bureau
Investigative journalism is vital for democracy. Help us to tell the stories that matter
Click here to support us
After the advert was published the Humane Society International India (HSI-India), an animal welfare organisation, wrote to the national regulator, the Advertising Standards Council of India (ASCI), complaining that its content misled consumers.
The ASCI responded to HSI India and upheld most of its complaints. It advised the Venky's subsidiary to withdraw or modify its advert by May 23rd. However, the ASCI promotes a self-regulation model and therefore has no power beyond that of making recommendations. It cannot fine companies, refer them for criminal charges or order corrections or apologies to be printed.
Commenting on the ASCI decision, Nuggehalli Jayasimha, Managing Director of HSI India, said that as the advert had already featured in the Times of India the "damage has already been done."
He said: "Even if the advertisement is pulled back, it is impossible to get as much attention as a front page of the Times". Jayasimha said Venky's "should be doing the right thing and cutting the use of non-therapeutic antibiotics...at minimum they should release a half page advert clarifying what they got wrong." He added: "There is a collateral damage to society as a whole from growth-promoting antibiotics."
He has written to India's Ministry of Information and Broadcasting, calling for greater regulation of advertorials to prevent misleading information being spread.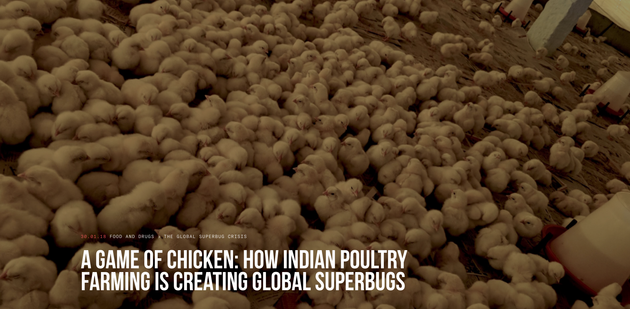 The original Bureau investigation revealed that Venky's and other companies were actively marketing products containing the 'last-resort' antibiotic, colistin, to poultry farms to make chickens grow fatter. This is against World Health Organisation guidelines as it spreads colistin-resistant bacteria, which can cause deadly infections in humans. The Bureau's story was published in January by the Hindu, the Guardian, the Times of London and the Lancet Infectious Diseases medical journal and was widely reprinted by other media organisations, including the Times of India itself.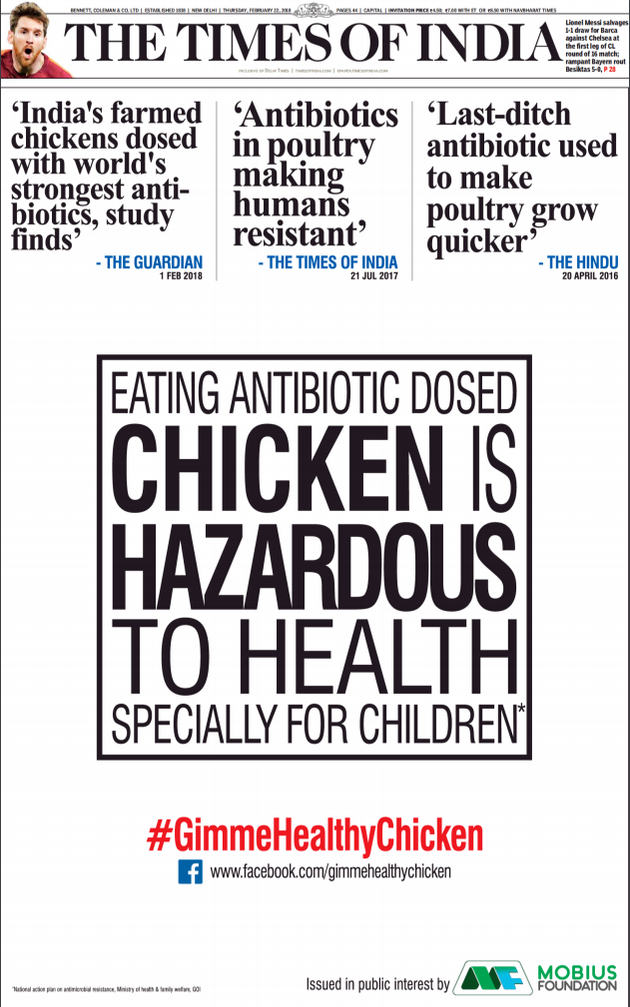 Then the Mobius Foundation, a non-profit organisation claiming to champion environmental sustainability, stepped in. On 22 February it took out a front page advertisement in the Times of India. It said, in capitals, "EATING ANTIBIOTIC DOSED CHICKEN IS HAZARDOUS TO HEALTH, SPECIALLY FOR CHILDREN". The Mobius Foundation's advert referred to the Bureau's investigation as evidence of its claims, and included quotes from our media partners on the story, the Guardian and the Hindu as well as an earlier report on superbugs by the Times of India.
Five days later, Venky's responded, also placing a front page advert in the same paper.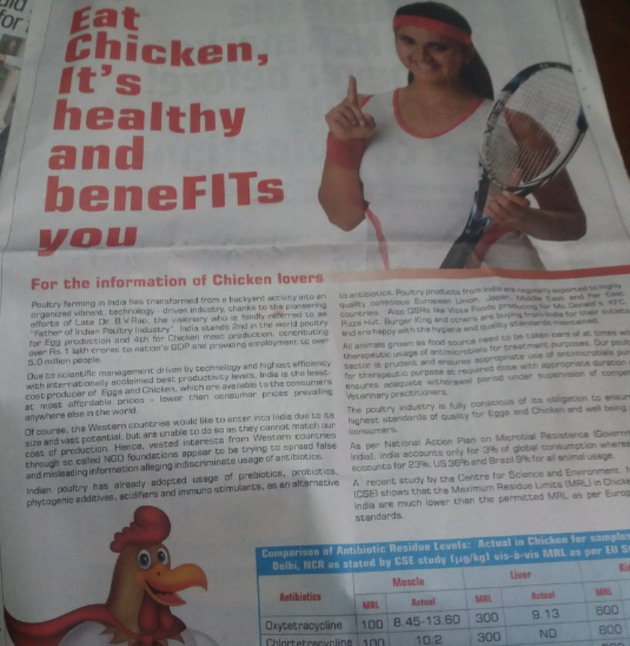 However, a row broke out after the Venky's advert was published. It had used data from a 2014 study by the Delhi-based Centre for Science and Environment (CSE), looking at residues of antibiotics in poultry meat. The chicken company's advert cites this as proof that allegations of widespread antibiotic use on farms are "baseless". CSE said, in a press release after the advert was published, that it misrepresented the organisation's data and "uses the findings incorrectly to suggest no misuse of antibiotics in the poultry sector".

This is because the advert conflates the issue of residues of antimicrobials with drugs given to chickens on the farm, to make them fatter and prevent or treat disease. Antibiotics given to healthy farm animals to make them grow faster or prevent disease creates a health risk through breeding superbugs which can infect humans, regardless of whether residues of antibiotics remain in the meat.
"All CSE studies have pointed out that there is rampant antibiotic misuse by the poultry industry", CSE's press release on the advert said. CSE also called on Sania Mirza to pull out of the "misleading" advert and welcomed the ACSI's decision.
In its response, the ASCI said the chicken company's use of CSE data contravened its code of conduct because CSE itself objected to its 'selective' use.
The ASCI also said the chicken company's claims that Western countries are spreading propaganda through NGO organisations were "not substantiated and amount to misinformation of facts" and was "misleading by exaggeration".
The advert also claimed Indian poultry companies were producing products for export to the EU and that McDonalds, KFC, Pizza Hut, Burger King outlets were happy with the hygiene and quality standards. The ASCI said these companies are not certifying bodies and therefore this claim is "misleading by ambiguity", though if the companies were meeting EU standards then antimicrobial residues would be within permissible levels. However, current EU regulations prevent poultry meat from India being exported to the EU, although some companies including Venky's are approved to export eggs.
The Bureau approached Venky's for comment but received no response by the deadline.
You can read the ASCI's full response to the advertisement here.
Header picture, of poultry in India, by our reporter, Rahul Meesaraganda