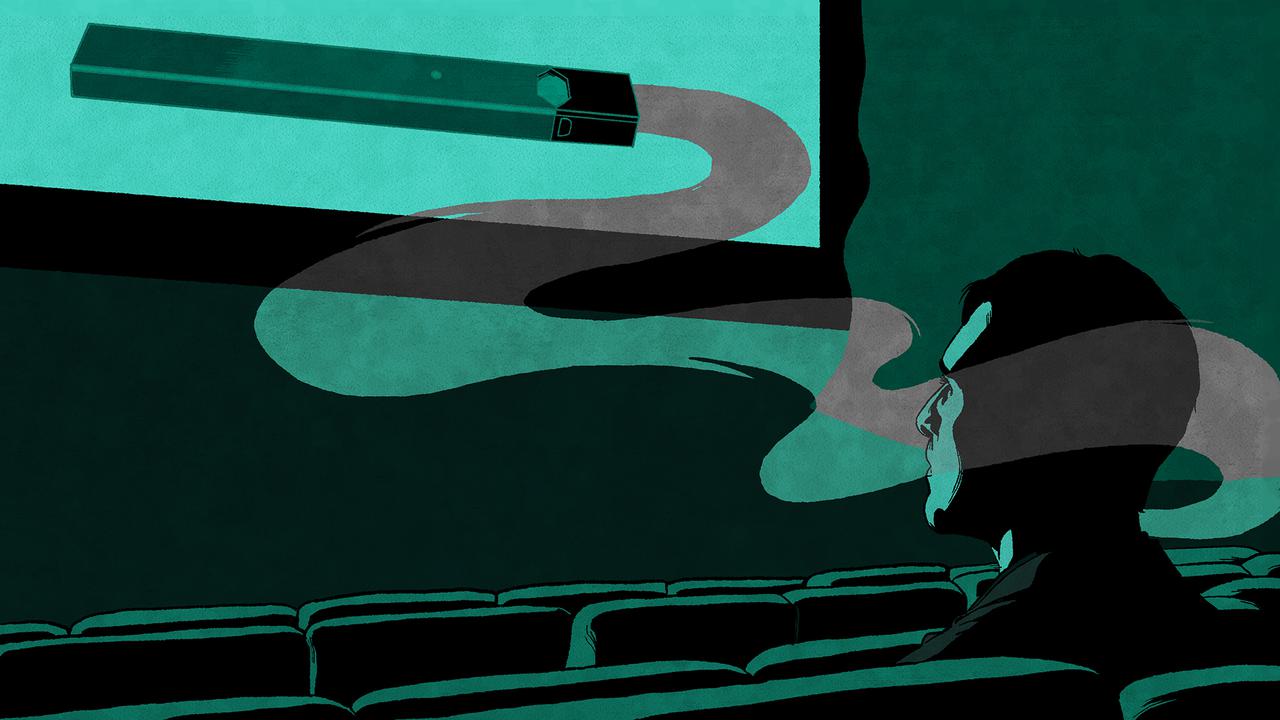 Loophole lets Juul advertise to children at the cinema
The e-cigarette company Juul has escaped censure by the UK's advertising watchdog after running adverts before films watched by children as young as 15.
Vaping companies are banned from advertising on television, radio, online and in newspapers and magazines in the UK.
However, in September this year adverts promoting Juul's vaping device ran before screenings of Angel Has Fallen, an action film starring Gerard Butler that was rated 15 in the UK.
Jonathan Trimble, chief executive of the ad agency And Rising, said it "makes little sense" to allow ads for vape products targeted at those as young as 15.
"Since all advertising is designed to create desire, you are priming a younger audience ahead of time and just as likely influencing under-age usage," he said. "They are already surrounded by celebrity usage and images on Instagram. Adding the concept of 'addiction without consequences' in broadcast environments such as films is more likely to hurt than help."
Juul has been accused of helping to cause a youth vaping epidemic in America through its early influencer-led marketing campaigns, which were hastily pulled after a crackdown from US regulators and lawmakers.
Cinemagoers complained to the Advertising Standards Authority (ASA), saying the advert was inappropriate because it is illegal to sell vaping products to children. They also said the advert did not make clear the risks of vaping, that e-cigarettes should not be promoted as a substitute to cigarettes, and argued the ad might encourage non-smokers to start smoking.
The advertisement purported to show five former smokers talking about how they made the switch to Juul. It was created by Gutenberg Global, a subsidiary of Adam & Eve/DDB, the agency behind the much-loved John Lewis Christmas adverts.
Vue cinemas defended the ad placement on Twitter, saying "while people from the age of 15 will attend the film, a lot of people over the age of 18 will be in attendance".
Under current regulations ads for e-cigarettes are allowed to run in films if less than a quarter of the audience are children. In the US, Juul has committed to not advertise in media outlets where 15% or more of the audience are under 21. The Cinema Advertising Association (CAA), the UK body responsible for determining what a movie's audience will look like, predicted only 6% of those watching Angel Has Fallen would be children.
The advert also ran during 18-rated films, including Quentin Tarantino's Once Upon a Time in Hollywood, starring Brad Pitt and Leonardo DiCaprio.
The CAA added the Juul advert was unlikely to appeal to people under 18 because it "featured actors well in excess of 25 years of age who appeared in clearly upper-middle-class domestic settings".
The ASA threw out the complaints, saying there were no grounds for a formal investigation.
Last year the ASA relaxed e-cigarette guidelines to allow health claims to be made in marketing without the authorisation of the UK's Medicines and Health Products Regulatory Agency. The ASA is due to review that decision but has yet to finalise how the review will work.
By contrast, the Scottish government is weighing up a complete ban on the advertising and promotion of vaping products to "protect children, young people and non-smokers from these products".
A study by the Centre for Substance Use Research, which was funded by Juul, found one in ten adults who had recently taken up Juul had never smoked a cigarette.
Vaping and tobacco companies and organisations have been lobbying for looser advertising restrictions. Juul employs Hanover, a UK public affairs agency which also represented the Advertising Association, an industry body. The association has campaigned for soft touch e-cigarette regulation in the past.
Juul kicked off its first major marketing blitz in the UK in July as part of its plan for international expansion. Its UK campaign has included outdoor advertising, an "educational PR campaign and local brand ambassador activity".
Half of 14 and 15-year-olds have tried vaping
Many more young teenagers are vaping regularly than national figures show, suggests a survey of thousands of Year 10 students by local councils.
Roughly one in ten pupils — age 14 or 15 — in Calderdale, West Yorkshire, vape at least once a week, while almost half (45%) had tried it. In Blackpool 49% had tried vaping, while in Kirklees 1 in 20 Year 9 students, some as young as 13, were regular vapers.
The national Smoking, Drinking and Drug Use Among Young People survey, which took place last year, said only 3% of 14-year-olds vaped regularly, and just over a third had tried it.
The Blackpool and Kirklees figures, compiled from anonymous surveys of school children, also contradict previously widely disseminated data from YouGov.
The YouGov data, commissioned by anti-smoking charity Ash, has been seized on by vaping industry body UKVIA to claim "vaping uptake amongst young people remains uncommon". Ash's survey found that only 1.7% of those between 11-18 vaped at least once a week.
Illustration by Rebecca Hendin
Our reporting on tobacco is part of our Global Health project, which has a number of funders. Smoke Screen is funded by Vital Strategies. None of our funders have any influence over the Bureau's editorial decisions or output.