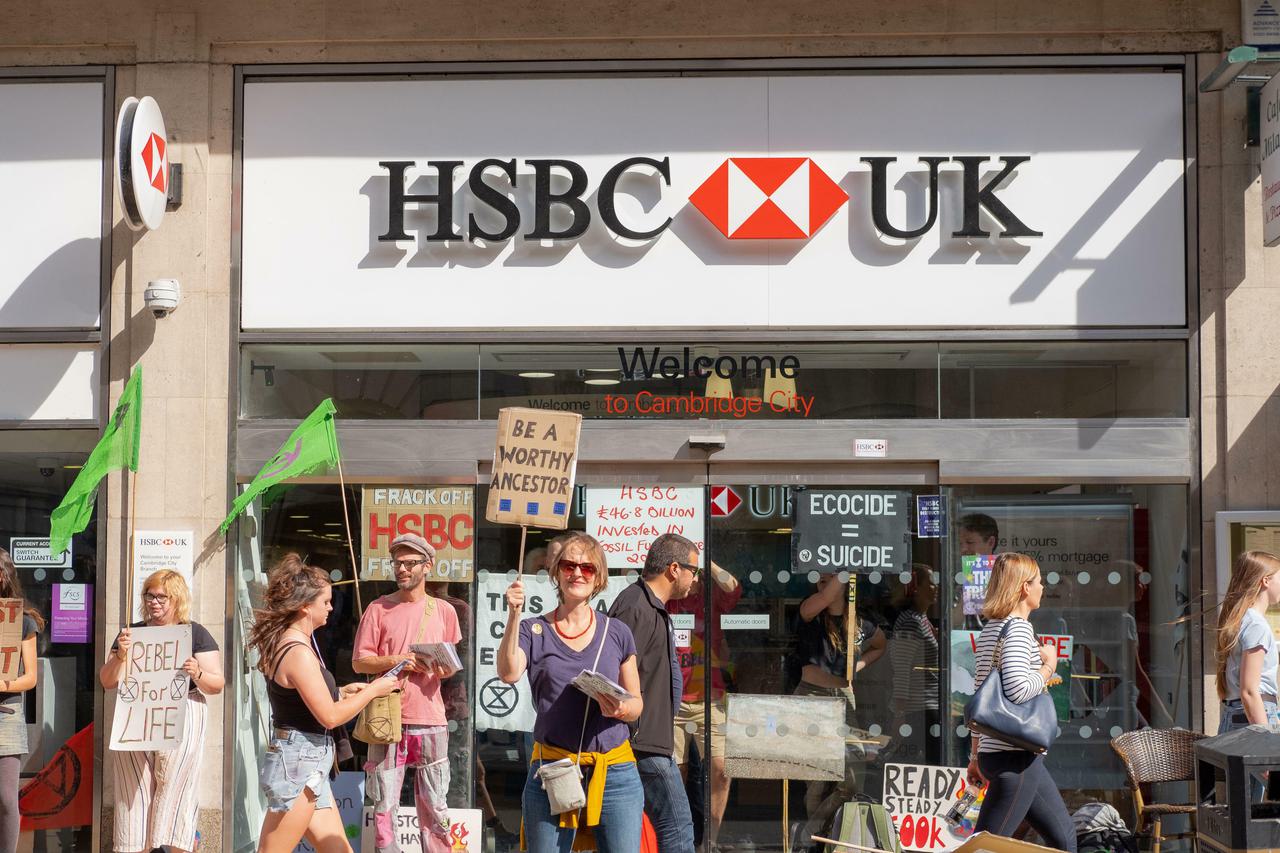 HSBC led big banks' charge against climate change action
HSBC coordinated efforts to try and water down action on climate change in the banking sector by seeking to delay a key deadline and scrap mandatory science-based targets for a major net-zero alliance, the Bureau can reveal.
These appeals came in an email sent from the office of HSBC's chief executive to the Net-Zero Banking Alliance (NZBA), an initiative launched by Mark Carney, the former governor of the Bank of England. The NZBA brings together more than 50 banks, including HSBC, Bank of America, Barclays and Santander, requiring them to set a target to cut carbon emissions from their lending and investment portfolios to net zero by 2050, as well as setting an interim target for 2030.
The email, which was sent on behalf of a group of 12 banks, said they should have three years from signing the NZBA commitment – rather than 18 months – before setting their 2030 target. It tried to further weaken the commitment by discarding a requirement for science-based targets.
Natasha Landell-Mills, head of stewardship at Sarasin & Partners, an investment firm that manages £19.3bn of assets and holds HSBC shares on behalf of clients, said: "Any evidence that HSBC has lobbied against robust action on climate change would be concerning." She said that she would like more information about the context and "would then look to take the appropriate action."
"We've got a climate crisis that we need to address," added Landell-Mills, "and the more we have banks pushing back on policies and regulations that are intended to accelerate action to combat climate change, the slower that action will be and all of us would suffer as a result."
The email came from the office of HSBC's chief executive, Noel Quinn, who is also chair of the Financial Services Taskforce (FSTF), a group convened by Prince Charles. HSBC staff coordinated the FSTF's 12 member banks when the taskforce was first set up this year.
Quinn said the FSTF is "committed to accelerating efforts within the banking sector […] to move towards a net-zero economy". But rather than accelerating efforts, the coalition lobbied for longer deadlines and argued against the mandatory use of science-based scenarios to set targets.
Under the NZBA, banks are required to set sector-level targets for the majority of carbon-intensive sectors – such as fossil fuels, real estate, agriculture and steel – within 18 months of signing, and all remaining sectors within three years. The FSTF asked to remove the list of sectors that must be included in the first round of target-setting, effectively making the commitment less rigorous.
It suggested targets should only be set for sectors where there are "credible transition pathways" to a net-zero future, or plans showing how those sectors will become more sustainable, which could be highly subjective.
The FSTF also said banks should be given until 2025 or 2030 to set targets for some carbon-intensive sectors.
Scientists say emissions must fall by 45% from 2010 levels by 2030 to limit global warming to 1.5C, meaning any delay stands in direct opposition to the urgency required to tackle the climate crisis.
HSBC has been one of Europe's biggest funders of fossil fuels, ploughing £17.3bn into the sector in 2020. Despite its commitment last October to cut financed emissions to net zero by 2050, it has since helped Saudi Aramco, the world's most polluting company, raise £10.3bn and Qatar Petroleum raise £9.2bn to fund the expansion of the world's largest gas field.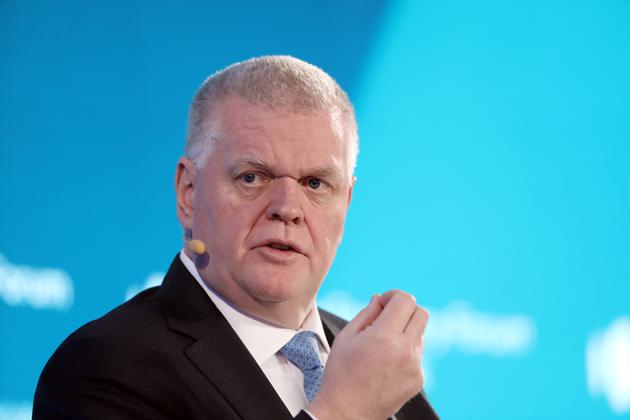 Dr Andrew Harper, head of ethics at Epworth Investment Management – which manages £1.3bn of assets and is an HSBC investor and customer – said that if a bank had been involved with this kind of lobbying, it is "incredibly discouraging to those of us attempting to genuinely engage with companies for a more sustainable future. It would raise serious questions around a company's commitment to science, the planet, and its people – especially the poor."
When asked about the lobbying, HSBC said it represented the views of the 12 member banks of the FSTF. It said the email sent from the office of HSBC's chief executive in March – when the bank held the roles of chair and secretariat of the FSTF – did not reflect HSBC's own position.
The email gave no indication that HSBC did not endorse these views.
The NZBA acknowledged the lobbying email, noting that it was a normal part of the process to gather thoughts from several parties.
The bank said: "HSBC categorically denies these allegations. HSBC did not lobby to dilute the ambition of the NZBA." HSBC signed up to the NZBA and said it had already committed to higher standards in its shareholder resolution on climate change, which was published shortly before it sent the email.
Colin Baines, investment engagement manager at Friends Provident Foundation, an HSBC shareholder, said: "[HSBC is] now legally obliged to produce a low-carbon transition strategy and it expressly mentions being science-based and aligned with the Paris climate agreement. That on the face of it is really good but to be lobbying counter to that behind the scenes rings alarm bells because that's not aligned with what they've told shareholders and the public and their customers about what they intend to do."
Despite committing to net zero voluntarily, HSBC has resisted regulation of its activities to achieve that target. As the second largest bank in Europe by assets, it is a powerful voice in the high-level expert groups and advisory panels that inform policy in the UK and Europe.
Donate to the Bureau
Investigative journalism is vital for democracy. Help us to tell the stories that matter
Click here to support us
Baines said: "There is no greater stakeholder than the banks as far as the bank regulators and legislators are concerned. [Banks] are going to be around the table as the policies are developed, so it's vital that they are adhering to what they've publicly committed to do."
Under the NZBA, HSBC pledged to ensure its lending and investments are consistent with a maximum temperature rise of 1.5C. However, in a consultation on the EU's sustainable finance strategy, it opposed a proposal that banks should be required to estimate what level of global warming their portfolios are financing. Asked about this contradiction, the bank said a lack of data means this approach is currently impractical.
In the same consultation, HSBC said the EU should take no further action to discourage investors from financing environmentally harmful activities as part of the European Climate Law – which enshrines the EU's objective of becoming climate neutral by 2050.
Baines said: "If HSBC is seeking to undermine regulation and legislation that would support their publicly stated objectives, they are not only undermining their own commitments but also their credibility, and stakeholder confidence that they are engaging in good faith."
Regulators in the UK and Europe have considered asking banks to hold more capital against the polluting assets on their books, effectively increasing the cost of lending to polluting companies. Last month, a cross-party group of MPs wrote to the Bank of England in support of such a measure.
HSBC has repeatedly said regulators should not penalise polluting assets in this way, both on its own behalf and via the Institute of International Finance, a trade association for the financial sector.
The bank said: "HSBC believes more information about industrial transition pathways is needed to avoid unintended consequences associated with limiting capital flows, such as job losses."
Bank of America declined to comment; Barclays and Santander did not respond to requests for comment.
Header image: Extinction Rebellion protestors outside a high-street bank in 2019. Credit: Nick Beer / Alamy
Reporter: Josephine Moulds
Environment Editor: Jeevan Vasagar
Impact producer: Grace Murray
Global editor: James Ball
Editor: Meirion Jones
Production editors: Alex Hess and Katharine Quarmby
Fact checkers: Emiliano Mellino and Franz Wild
Legal team: Stephen Shotnes (Simons Muirhead Burton)
This reporting is funded by The Sunrise Project. None of our funders have any influence over the Bureau's editorial decisions or output.

Subject:
Banking
Greenwashing
Climate crisis