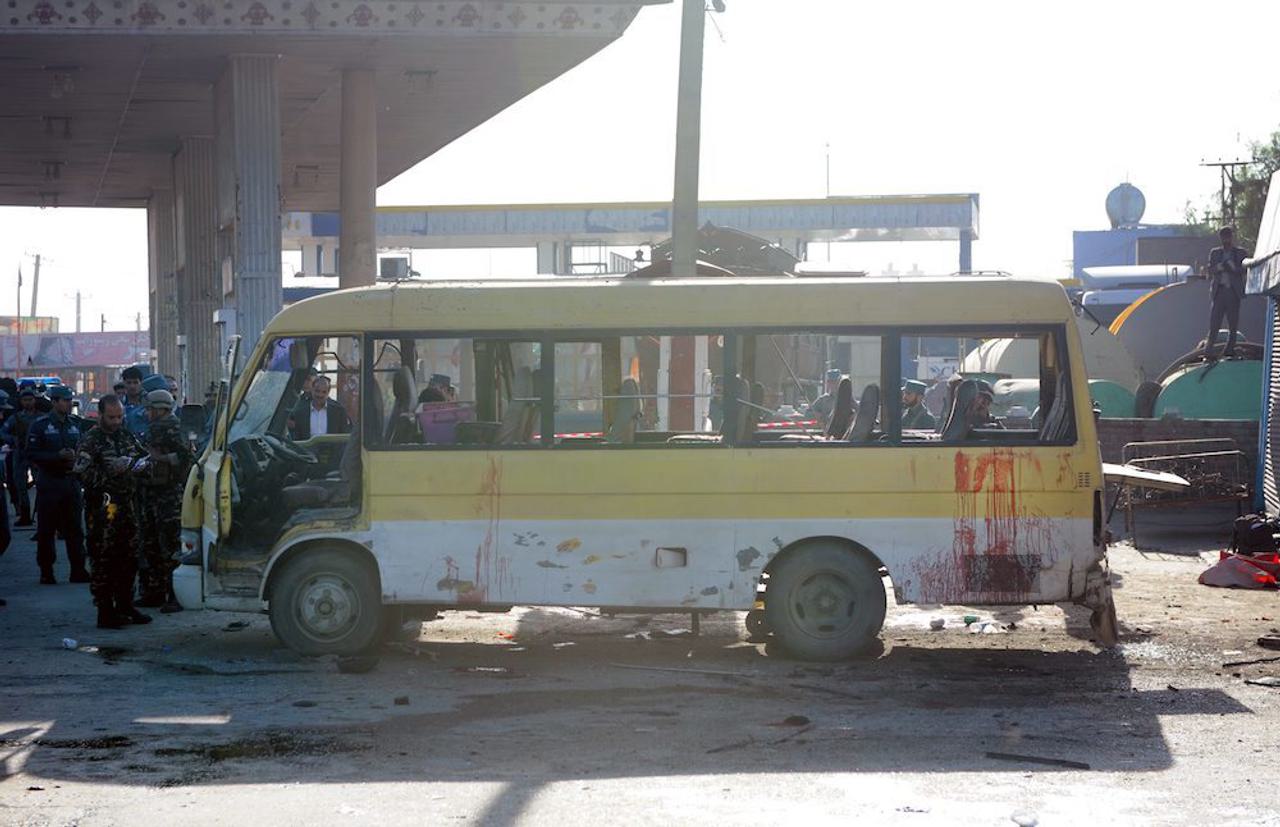 What one company's vanishing act tells us about the private security industry
Yesterday we published an investigation into the strange vanishing act of private security firm Sabre International Security - once one of the biggest contractors in US-occupied Iraq - and what happened to its Nepalese and Indian workforce when tragedy struck in Kabul in 2016.
The story shows how issues of transparency and accountability still bedevil the corporate provision of force in war zones. Whether it be governments spending taxpayers' money to protect vital assets, or the treatment of migrant workers operating in high risk environments, there is a clear public interest in understanding how security companies operate and who is responsible for their actions.
The killing of 14 civilians by employees of Blackwater in 2007 thrust the private security industry into the global spotlight. The deaths became a lightning rod for criticism of the industry, and reforms followed. What has happened inside the industry over the last decade has been less clearly traced.
Insiders talk of the mid-2000s in Iraq as a gold rush, a "wild west" era, driven by an almost unlimited flow of government money. Much of this can be attributed to "Logcap", a gigantic umbrella contract under which all the logistics for the US presence - from food to fuel to sanitation to security - were bought. Logcap was initially administered by KBR - formerly part of Halliburton - and it ended up costing over $37 billion. Crucially for the contractors and subcontractors to which KBR parcelled out work, tasks were billed on a "cost plus" basis, by which service providers charged a fee on top of whatever their services cost them. This guarantees a profit for everyone.
Blackwater was at the top of the list of earners in the security field. Summoned before an oversight committee in 2007 and asked what profit his firm made on over a billion dollars of government money, Blackwater boss Erik Prince answered: "We're a private company, and there's a key word there - private." Close behind Blackwater in security earnings from Iraq were the British firm Aegis Defence Services and two other US firms, DynCorp International and Triple Canopy.

The magic money train abruptly hit the buffers in 2008. The US army rolled out its new logistics contract, Logcap IV. Instead of being administered solely by KBR, the new contract was split between three companies, KBR, DynCorp and Fluor. This, combined with a new tendering policy, was supposed to make contracting more competitive and cheaper.

A few months after the government selected its prime contractors for Logcap IV, Lehman Brothers collapsed and the world was plunged into the most severe financial crisis it had seen since the Great Depression of the 1930s.
"The lights went off," said James Sinclair, a lawyer and ethical recruitment specialist who worked in the Middle East at the time. "It radically transformed the industry. It went from being very rich to very austere overnight. We were told, forget paying these salaries to these guys. They go from $2,500 to $500 [a month] or they go home."
Since this sudden downturn, the industry has been evolving and rebuilding. Efforts have been made to promote corporate good practice, notably via the International Code of Conduct for Private Security Service Providers, published by a voluntary group of representatives from governments, security firms and NGOs. But while this has led to some formulations of improved corporate responsibility, industry watchers warn that much of what goes on is still unclear.

In economic terms, for the security industry the US occupations of Iraq and Afghanistan were a monopsony - a market with only one buyer. This, according to Sean McFate, author of The New Rules of War, kept the industry somewhat in check, despite the vast quantities of cash that were swilling around. Following the US drawdown in Iraq and Afghanistan the situation changed.

Many security firms are essentially "matchmakers", says Deborah Avant, professor of international security at the University of Denver. They operate with relatively low costs and don't need to invest in a lot of equipment, so they can move fluidly between sectors and areas. As the US-dominated market of the mid-2000s came to an end, the firms that survived and profited were often those that shifted to different industries, away from government clients and towards the private sector, extractive industries, cyber technology or preventing drug trafficking.

"Most of these companies have an American or a British face, but they're multinational corporations," McFate told The Bureau. "The industry is atomising." Some of the big players are "trying to make a model of transparency," he says, but this is expensive. Others are under the radar - "more willing to use direct action and more dark arts."

The firms taking off nowadays are small low profile companies that can "rebrand in an instant," according to McFate, and they all know each other through word of mouth. In parallel to a shift in how global conflict is managed - from massive boots-on-the-ground presence to a more agile focus on airpower and special operations - he identifies the new model of private security as being "more and more like Yemen and less and less like Iraq."
Accompanying this trend, in the last decade, security companies have attracted the attention of private equity funds. Of the big hitters in Iraq in the mid 2000s, the majority which still exist are now owned partly or wholly by private equity - including Blackwater, Triple Canopy, DynCorp, Global Strategies Group and Gardaworld. Versatility is a key attraction for such buyers, according to Robert H. Perry, a firm specialising in brokering sales of security companies: funds "are redirecting their acquisition efforts" and buying companies that are operating in more diverse activities and locations.

Ori Swed, director of the Peace, War and Social Conflict Lab at Texas Tech University, told the Bureau that the industry has "expanded in terms of functions, it expanded geographically, and since China got into the game we have more companies."
McFate, the author, agrees: "It's a worldwide market for force. Now you have other clients, Russia, Abu Dhabi. Business is booming." But it's also got a lot more dangerous, he says: "Both in terms of what they can do and in terms of accountability."

Concrete details about the sector are hard to come by, however - even for companies based in the UK. Action on Armed Violence, an advocacy group, said in a report last year it had identified "235 UK-registered military and security companies whose websites offered higher-level security work, usually international and involving armed protection," using the Companies House database.
"The industry is marked by a high turnover of companies; businesses are formed and then dissolved a short while later," said the researchers. "This practise might be to create companies to provide certain projects, but it adds to the impenetrable nature of this sector, where so much is opaque and seemingly unaccountable."
Last week, the global spread of security work was in the spotlight as Russia's so-called Wagner Group was reported to have extended its mission from the Middle East and Africa to Venezuela, helping to prop up the embattled Maduro regime. Meanwhile, Blackwater's founder, Erik Prince, is back in the news as he suggests that contractors take over US military operations in Syria. The security industry is diversifying and becoming more prominent. But as the story of Sabre International shows, accountability and transparency for security service provision can still be a black box.
Read the full investigation: Death and disappearance: Inside the world of privatised war
Header image of bus that transported Sabre employees following a bombing in 2016. Photo by EPA/Shutterstock