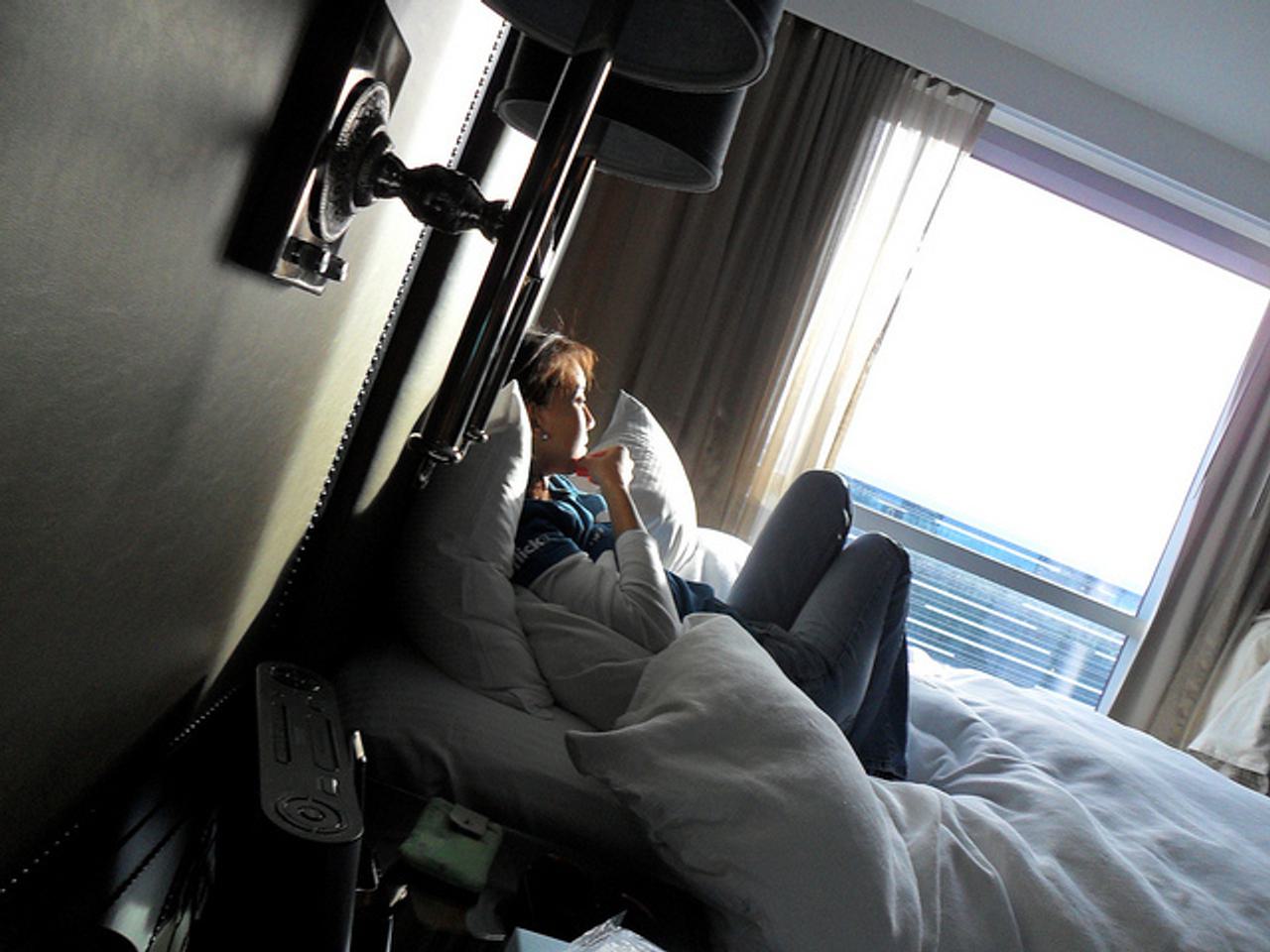 Woman who rang 999 with date-rape fears charged with making false claim
Hard Rock Hotel Room by Andrew Ta at Flickr
It was 2012 and a young woman – we'll call her Marie – was out with friends in an Essex nightclub.  Her friends saw her kissing a young man – we'll call him Danny –  before they lost track of her.
The next morning Marie woke to find herself naked in a hotel bed with Danny, whom she did not recognise.
She could not recollect how she came to be there. She drifted in and out of sleep, becoming gradually aware that she was sore and must have recently had sex.
She got up to leave. As she was dressing another four men, whom she did not recognise either, came into the room.
Marie left the hotel in a rush and spoke to a friend, who persuaded her to call 999.
She told Essex police she had no recollection of the events of that night or of having sex with Danny and that she did not want to get him into trouble. But she said she was worried that she had been 'given something' as she had not had a lot to drink and could not understand her lack of memory.
Danny and his friends, who had been in the hotel room next door, were arrested. After giving evidence that he had consensual sex with Marie at least twice that morning, Danny was released without charge, as were his friends.
Marie's blood and urine were analysed for 'date-rape' drugs but the results were inconclusive. So much time had elapsed before the tests were done that any traces were likely to have disappeared from her system.
 'I would never leave my friends either. I didn't drink anything more than I would normally.  I had eaten. I just don't understand what happened.'
Woman accused of false rape claim
The police then arrested Marie – who had never been in trouble with the police before – and charged her with perverting the course of justice by making a false allegation of rape.
The CPS later said she had come up with a 'sophisticated plan' to subtly imply that she had been raped in order to 'free herself of the embarrassment' of having had a one-night stand.
It was 'simply unbelievable', prosecutors argued, that she could have woken up in bed next to a strange man with no recollection of the night before, having apparently had consensual sex with him and then forgotten about that as well.
This was despite the fact that partial memory loss is entirely consistent with the effects of 'date-rape' drugs.
The case was thrown out by a Crown Court judge. The CPS then took the case to the Court of Appeal.
In a ruling made in December 2013 the Appeal Court supported the previous judge's decision. However the appeal judges agreed that Marie should not have dialled 999, which it said was for reporting 'significant crime'.
Related story: 'Type of underwear' influenced CPS decision to drop rape case
The case has worrying implications, says the campaigning organisation Women Against Rape, which warns that the decision to prosecute the woman could deter victims of drug-assisted rape from reporting their experiences to police.
Earlier this year the High Court told the Metropolitan Police to compensate the victims of serial rapist John Worboys, a black cab driver who fed women passengers spiked drinks before raping them.
The Met's policy on 'drug facilitated sexual assault' warned that special procedures were needed when dealing with these victims, as they tend to have little or no recollection of events, may have slipped in and out of consciousness, and have 'given the impression of consent'.
In the Worboys case the Met failed to follow this policy and detectives dropped the women's reports without thorough investigation because officers did not consider their testimony to be credible. One victim was seen on CCTV apparently embracing Worboys.
Following Worboys's conviction, the Met advises anyone concerned they may have been raped but cannot remember what happened to contact police.
Metropolitan Police Policy on Drug Facilitated Sexual Assault
If a victim has been given a 'drug rape' drug they will probably be in a state of confusion.

Depending on the dose and the time elapsed since the administering of the drug, the victim may have a good recollection of what has happened to him/her or they may have no recollection at all.

It may be purely on physical evidence that they think they have been attacked. It should also be remembered that if the victim is still suffering the effects of the drug, when they report the offence, it might be affecting their behaviour.

The victim will often reflect upon what has happened and question whether it was their fault and whether they may have been giving the impression of consent. It is of the utmost importance that the victim be treated as a victim of rape, irrespective of how confused their account may be and irrespective of any possible evidence of consent….

'Officers must be aware that victims can experience a loss of memory of events after a drug has been taken … a person given a drug may also be rendered  unconscious, may remain conscious but with little or no recollection of events or may slip in and out of consciousness…
Marie was prosecuted on the basis that consensual sex had taken place in the morning – Danny's friends in the next door room had heard sounds consistent with that having happened. The police maintained she was lying when she said she had no recollection of this.
They put forward no other evidence of malicious intent.
Marie fully accepted that she must have gone willingly with Danny to the hotel. But she was concerned about her memory loss.
'I am worried that I can't remember anything,' says the police record of her initial account.
'Maybe I did, which is totally out of the norm. I don't want to get him in trouble. I would never leave my friends either. I didn't drink anything more than I would normally.  I had eaten. I just don't understand what happened.'
During the trial at Basildon Crown Court Danny accepted under cross-examination by defence barrister Katherine Kelleher that there had been no talking or kissing during the sex he had had with Maria in the morning.
And he accepted that it was possible she may have been half-awake or semi-conscious at the time and may not have recollected it afterwards.
Marie's trial ended because the Crown Court judge had decided she had never actually told police she had been raped, only that she did not know what had happened, therefore she had no case to answer.
In his judgment, Mr Recorder Farrer QC said that the prosecution case was that the woman had constructed a 'sophisticated plan' to 'subtly imply that she had been raped without saying so directly … in order to free herself of the embarrassment of having indulged uncharacteristically in an irresponsible one-night stand'.
The more plausible explanation was that she reported the matter 'because she did not know what had happened and wanted the police to investigate, by medical examination and other scientific testing,' he said.
Even if an allegation had been made, a properly directed jury could not find that it was made with the intent to pervert the course of justice, the judge added.
 'It was most unfortunate that this young girl, perhaps over-persuaded by her friend, should have ever dialled 999.'
Lord Justice Moses
Senior CPS lawyers then approved a decision to challenge that ruling at the Appeal Court.
There, they argued that the woman's 999 call inherently meant that she must have been reporting a crime.
On the same day, 17 December 2013, the Metropolitan police issued a press release, which was widely reported in the national media, stating that it had received more than 18,300 calls on its 999 system in 2013 that did not require a police response.
Callers had rung 999 to enquire about locations of New Year's Eve fireworks displays, to report finding a dead squirrel and about a food delivery made to the wrong address, the release said.
The CPS lost the Court of Appeal case too.
Three senior judges decided that the trial judge's decision to terminate the trial was a reasonable one.
But Lord Justice Moses made it clear that he and his colleagues would not necessarily have made the same decision.
He said: 'We have said enough to make it clear not all of us would have taken the same course as the [trial judge],' he said.
'It was most unfortunate that this young girl, perhaps over-persuaded by her friend, should have ever dialled 999,' he added.
'It had very serious consequences for her and perhaps rightly so because that means of communicating with the police should not be used unless it is for making a report of significant crime.'
CPS and police insist decision to prosecute was correct
Guidance issued by the CPS last year on prosecuting false rape claims advises that cases should not be brought where the allegation was not motivated by malice and the suspect was not charged.
The Essex case was prosecuted by a barrister who is on the CPS' rape panel, which means he has been specially trained in the complexities surrounding rape cases.
A spokeswoman for the CPS said a senior prosecutor had reviewed the evidence in the case and had concluded 'there was sufficient evidence to provide a realistic prospect of convincing a jury that the complainant had made an allegation of rape, that she knew that allegation to be false and that she intended her allegation to be taken seriously by the police.'
Detective Chief Inspector Scott Cannon of Essex Police said the case had been fully investigated in an enquiry led by a senior officer who specialises in sexual offences.
'There was close liaison with the Crown Prosecution Service throughout and all relevant evidence was captured,' he said.
He added: 'We have noted the judgement so that it can further inform our decision-making processes on such cases in the future.'
Metropolitan Police advises people who 'think something may have happened' to get in touch
The recent High Court judgement that awarded compensation to the victims of black cab rapist John Worboys emphasised the difficulties of investigating and prosecuting cases of drug-assisted rape because of the resulting memory loss.

Following Worboys's conviction, the Metropolitan Police sought to emphasise that anybody concerned about something they could not remember properly should report this fact to police.

The force's rape victim advice leaflet states:

You can't remember what happened to you so how can you tell us?"

This situation does happen. If you or anyone you know are worried or anxious and you think something may have happened to you, you can go to any police station.'

The Met's Standard Operating Procedure on Drug Facilitated Sexual Assault of 2010 says:

'If a victim presents to police and cannot remember what has  happened, and the circumstances indicate that an offence may have been committed, the allegation should be treated as a crime until there is evidence to the contrary, even if the victim is unsure what has happened'.
You can find further case studies as part of our Investigating Rape investigation here and here.