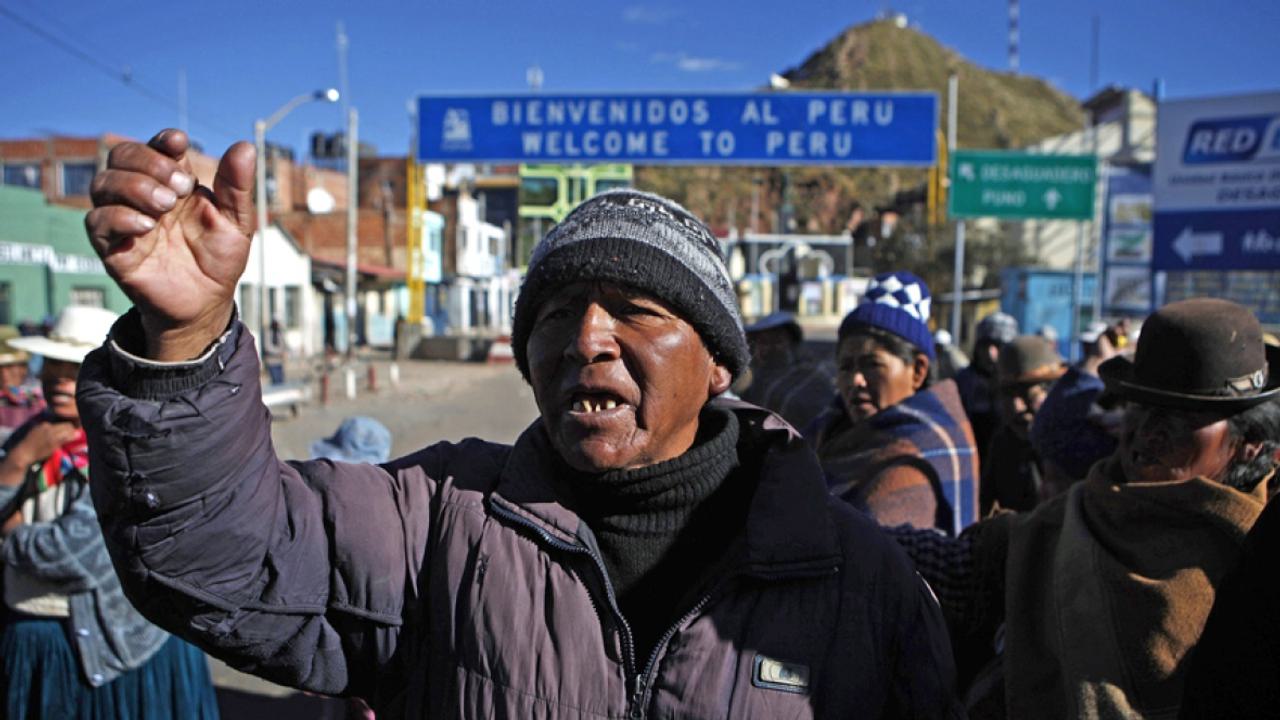 The billions made by lawyers when multinationals put countries in the dock
Deadly protests in Peru. (Image: Juan Karita/Associated Press)
When, in June 2011, indigenous Peruvian farmers attempted to take over a regional airport in the southern province of Chucuito, security forces opened fire. Six protestors were killed and 30 more wounded.
Farmers said they were driven to this deadly protest by fears they would be thrown off their land and that water supplies could be polluted if a proposed silver mine in the remote mountains near Lake Titicaca went ahead.
The deaths triggered further violence. Fearing complete social breakdown, the Peruvian government cancelled the Santa Ana mining concession given to Bear Creek, a little known Canadian mining firm.
It was a famous but bloody victory for the Aymara people.
"This was an emergency measure which the government implemented as a result of the strong social pressure and a conflict that had overflowed," José De Echave, Peru's former deputy environment minister, told the Bureau. "It was obvious that this project did not have the social license to operate."
But Bear Creek, the loss-making Vancouver-based company, strongly contests this.
Losing the right to mine silver at Santa Ana was a severe blow to the firm. This would have been an asset, the company believes, capable of producing five million ounces a year. Even with the world silver price at a five-year low of $14 per ounce, Santa Ana was a potentially valuable prospect.
Not only did the contract loss have severe financial implications, Bear Creek argues, Peru's actions also violated "the fundamental tenets of legal security, due process" and had "no justified purpose or reasonable motive".
Bear Creek claims its Santa Ana concession was terminated "to placate a minority of political activists".
"This is a straightforward case of expropriation without compensation by the Peruvian government and of serious violations of additional obligations under the Canada-Peru Free Trade Agreement and international law," the company stated.
In the ensuing four years, Bear Creek, led by Andrew Swarthout, met government ministers and officials to broker a settlement. But no compensation was forthcoming.
So 18 month ago, Bear Creek lodged a $522m damages claim against Peru at one of the world's most important commercial arbitration tribunals – the International Centre for Settlement of Investment Disputes (ICSID).
To Peru, the Bear Creek demand is out of proportion. It is resisting the claim.
But if previous cases filed at ICSID are anything to go by, the arbitration will take at least three years and incur legal fees that could run into tens of millions of dollars. And if Peru loses, it will be the country's struggling taxpayers who will pick up the tab. What's more there is no guarantee that the judgement will be made public.
This is the world of international treaty arbitration.
Today 159 countries have signed up to the ICSID convention and the number of cases filed here has rocketed in recent years.
In the 1990s, there were just 42 cases heard at ICSID. In the 10 years to 2009, there were 234 cases. In the last five years alone, 244 claims have been served.
With the number of cases proliferating so fast, City firms are poised to create a market based on international treaty and commercial arbitration cases. The move, say financiers, will help companies fund even more claims.
The Bureau spent two months analysing the 557 cases that have been filed at this World Bank institution since the first claim was made in 1972.
We can reveal that businesses – mostly giant corporations – have in that time scooped damages payouts of at least $4.3bn in dozens of countries through this controversial arbitration system
But estimates derived from our research suggests that lawyers and experts have pocketed over $2bn in fees from ICSID arbitration cases, most of which centre on alleged violations of international trade treaties. Nearly half the $2bn legal fees are picked up by taxpayers.
To companies, ICSID is a forum for ensuring the global trading system provides security to investors if states damage their interests.
To most countries, ICSID is an unavoidable fact of life. It is the price they pay for signing up to bilateral investment treaties. These arcane legal documents set the ground-rules for international trade. They provide the framework for companies and on very rare occasions, countries to seek redress if one party acts in a way that harms their interest.
But to campaigners, the international investor-state arbitration system is the ultimate way multinationals exert a stranglehold over sovereign states. Through this system, they say, key pieces of environmental or tax regulation can be undermined.
And it is companies that overwhelmingly make use of the ICSID process. Since 1972 and over 557 claims, just three countries have sued companies through this route.
'Eye-watering sums'
Huge costs to countries, many of which are in poverty, are likely to increase significantly because cases filed by companies at ICSID – a Washington-based division of the World Bank – have now reached an all-time high.
In the year to July 2015, a record 52 cases were registered, according to its annual report published in September. Most involved companies in the energy and extractive sectors.
The sizeable costs and record case loads alarm campaigners who fear a new trade deal between the United States and the European Union, the Transatlantic Trade and Investment Partnership (TTIP), will include provisions that will prompt a flood of similar legal actions.
John Hilary, executive director of War on Want, the campaign group, told the Bureau there were even deeper implications for national sovereignty. He said: "The eye-watering sums involved in investment disputes pose a real danger to democracy. When governments are considering the introduction of new social or environmental legislation, they are increasingly constrained by having to worry about the implications of their actions on transnational corporations.
"It means they are now looking over their shoulder at the potential cost of introducing new regulations rather than concentrating solely on the public interest."
Peru's former deputy environment minister, José De Echave, agrees. "I think these type of instruments which are based on the chapters of investment protection within free trade agreements are harmful to states. Their hands are tied. They restrict countries' ability to make sovereign decisions and improve legislation….We are currently facing investor lawsuits for more than $7bn."
But Matthew Hodgson, a lawyer specialising in international treaty arbitration at Allen & Overy, said: "I do not believe the system is unfairly tilted in favour of the investor. This is reflected in the outcomes – only a minority of investors succeed with their claims and even those who do typically receive considerably less in compensation than they claimed."
Expensive
Companies file a claim with ICSID when they believe a government action adversely affects their business and it has also violated a contract or an international investment treaty.
Investment treaties tend to be signed either bilaterally between two countries or by regional trade blocs such as the EU.
The EU in fact is currently in advanced negotiations with Myanmar over a controversial bilateral trade agreement in which pressure was placed on the fledgling democracy to sign up to an investor-state dispute framework. It has attracted widespread opposition from groups representing rural communities.
Virtually always held in secret, ICSID cases are often protracted, complex and expensive to mount. Payouts to companies can run into the hundreds of millions of dollars and in some cases have exceeded $1bn.
Of the 557 cases brought to ICSID since 1972, 346 have concluded. Of these, arbitrators have made awards in 193 cases – 34% of those filed. Of those 193 cases, damages payouts were disclosed in 71, all of which were analysed by the Bureau.
According to our research, total disclosed damages have now reached $4.3bn, an average of £60.6m each.
The case which saw the largest payout was a $1.8bn award to US energy firm, Occidental Petroleum in 2012. The case centred on the termination of an agreement that had previously allowed Occidental to extract oil from the Ecuadorian Amazon.
Ecuador terminated Occidental's licence after the firm entered into an unauthorised joint venture with another company.
But the ICSID tribunal judged Ecuador's termination to be in violation of the bilateral investment treaty signed between the US and Ecuador. Last year, the $1.8bn payout was revised down to $1.1bn by an ICSID tribunal following an appeal.
Legal costs
As the number of cases increase, so do legal costs. Of the 193 ICSID cases where awards have been made, approximately 40% disclosed legal costs. For these, we found legal payouts totalled $744m.
By extrapolating that figure to all cases where awards have been made, the Bureau estimates that total legal costs at ICSID could be in excess of $1.8bn. If private settlements made before the conclusion of an ICSID ruling are added in, the full total could be more than $2bn.
The case that racked up the highest legal costs was between Libananco Holdings, a Cypriot-based corporate vehicle linked to the wealthy Uzan family and Turkey. The case concerned Turkey's decision in 2003 to cancel electricity producing agreements with companies linked to the Uzan family.
The claimants faced a legal bill of $24.4m while the Turkish government, represented by Freshfields Bruckhaus Deringer and the Istanbul-based Coşar Avukatlik Bürosu, which won the case paid out $35.7m.
Libananco was ordered to pay $15m towards Turkey's costs which it failed to overturn on appeal.
Costs in international treaty arbitration are so high because cases are complex and those involved are paid by hour or by day with no time limit on how long disputes can last. In just one case seen by the Bureau, lawyers charged its client for 31,000 hours of work. The degree of specialism means only a few law firms can take on cases.
Among the go-to firms are Freshfields and Allen & Overy.
Wealthy funders
With fees to lawyers so high, third-party litigation funders are increasingly used by companies to underwrite the cost of international treaty arbitration.
The main companies that fund cases are Burford Capital, a fast-growing firm listed on London's Alternative Investment Market, and New York-based Fulbrook Capital Management, run by Selvyn Seidel.
Seidel told the Bureau that companies such as Fulbrook demand lawyers reduce their fees when they fund their cases but are entitled to take any damage payouts if they win a case.
With such large damage payouts, returns on cases can easily beat conventional asset classes.
Increasingly, Seidel said, hedge funds, private equity firms and wealthy individuals are looking to fund international treaty arbitration.
Seidel says that third-party funders of litigation are parcelling up mainstream commercial cases and selling them to investors like financial derivatives. Though he is not aware of international treaty arbitration cases being sold as derivatives, he predicted they soon will be.
"As the derivative product gets more visible in the ordinary industry, it will pour over. I have no doubt it will happen," he said.
Countries in the dock
Today, most claims derive from the mining and energy sectors which in the year to July 2015 accounted for 58% of all cases registered at ICSID.
Cases include:
Ten separate company claims filed in the last year against Spain after it made cuts to its renewable energy subsidy regime.
A multi-billion dollar claim against Germany from Sweden's state run electricity generating firm, Vattenfall after the country phased out its nuclear power plants following the Fukushima disaster four years ago. "Vattenfall is not questioning the decision to phase out nuclear power in Germany," the company said. "But we do insist on receiving compensation for the financial loss suffered by the company. There was simply no other way than to indict Germany." (Vattenfall is also suing Germany at the same time in German courts)
Romania faces a multi-million dollar suit launched this summer by a Canadian company over its controversial Rosia Montana mine, set to be Europe's largest open-pit gold mine. The project is at the centre of a long-running dispute with local communities over environmental concerns.
El Salvador is awaiting a verdict on a $300m suit filed by a Canadian mining company, since bought out by the Australian miner OceanaGold, after the country refused to issue it a permit for its controversial El Dorado mine, saying its environmental paperwork was not in order and that it hadn't gained the rights to the land it needed for the project.
Companies are also suing countries if they change tax policy. Vodafone, for instance, is in the midst of a $2.6bn row with the Indian government involving allegations of unpaid capital gains tax which the UK telecom giant disputes.
Overall, the region which has faced the most actions in ICSID over the past year has been Eastern Europe and Central Asia, which accounted for 17 of the 52 cases filed, or 33%. Second was Western Europe with 11 cases – but of those 10 involved Spain and its renewable energy subsidy cut.
The Sub-Saharan Africa region saw 10 claims filed against nine separate countries.
Major player
As concern mounts that poor countries in particular are facing costly corporate legal actions, a new report by campaign organisation, Trade Justice Movement, has pinpointed UK companies as major players in the global international arbitration landscape.
The group found that British companies are responsible for 8% of total known cases at ICSID. This was second only to companies headquartered in the United States, which accounted for 21% of all cases, the Bureau calculated.
TJM also notes many of the main law firms and third party funders involved in international treaty arbitration are headquartered in the UK.
Legal battles between sovereign states and multinationals are rapidly increasing. It means City firms are set to reap huge fees financing claims and advising clients. Campaigners believes this all adds up to corporations taking sovereign states to the cleaners.
Allen & Overy's Matthew Hodgson – a man who advises companies and countries – conceded the system is "not perfect" but strongly argues it is "fair".
"Most practitioners would accept that (the system) is time-consuming and the absence of a system of precedent can lead to conflicting decisions," he said. "I do think, however, that it is fair and on the whole works reasonably well. It has offered a remedy to many investors who have been victims of serious breaches of international law that would otherwise have gone uncured and which, under the old system, could have led to diplomatic disputes between the host state and the investor's home state."
* This piece builds on work published in The Guardian by Claire Provost and Matthew Kennard, who are both Bertha Fellows at the Centre for Investigative Journalism, a separate organisation to the Bureau.