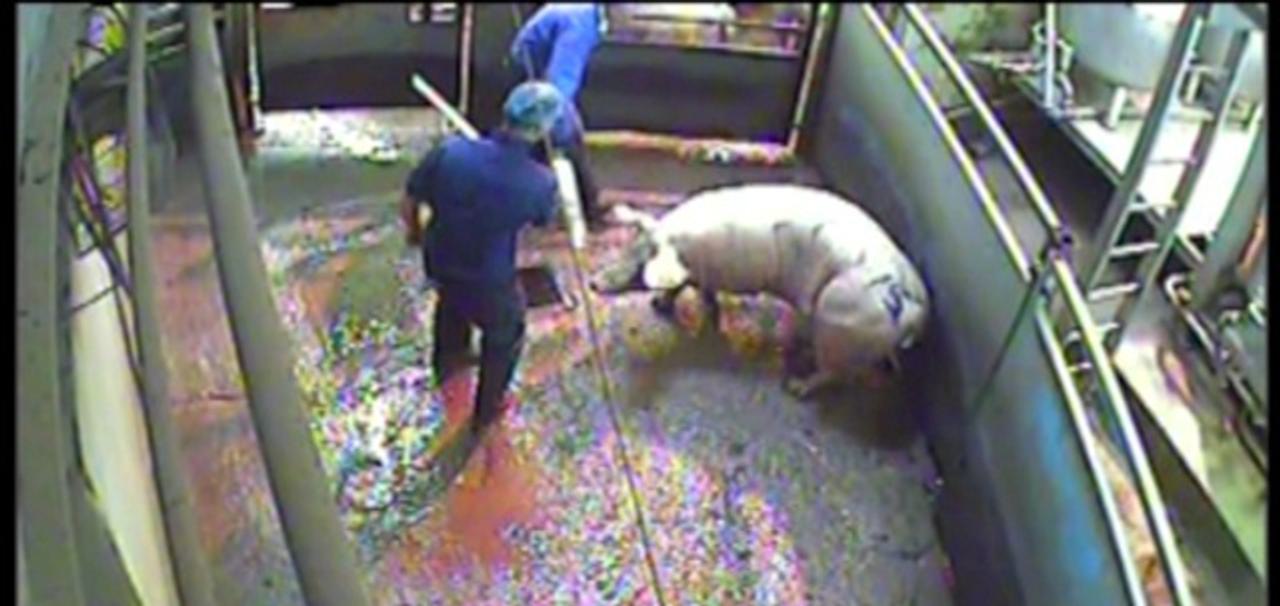 Severe welfare breaches recorded six times a day in British slaughterhouses
British farm animals are subjected to needless pain and distress six times a day on average as they are slaughtered, the Bureau can exclusively reveal.
Reports by vets and hygiene inspectors detail more than 4,000 severe breaches of animal welfare regulations over the past two years, including instances of chickens being boiled alive and trucks of animals suffocating or freezing to death.
The data – a log of reports submitted to the Food Standards Agency, the industry regulator – reveals how regular breakdowns on production lines, equipment failures and poor procedures in abattoirs result in thousands of animals being subjected to avoidable suffering each year. Scores of individual acts of cruelty and neglect by slaughterhouse staff, hauliers and farmers are also documented, alongside malpractice that increases the risk of food poisoning.
Many animals are presented for slaughter in appalling condition, the records show – some emaciated or too weak to stand, others diseased or suffering from fractures and open wounds. Failures in stunning procedures – which can result in animals regaining consciousness before being killed – are commonplace.
Vets and meat hygiene inspectors working for the FSA inside abattoirs reported a total of 9,511 animal welfare breaches between July 2014 and June this year, with records classified into three categories according to severity. Category 2 refers to a low risk isolated incident, while category 4, the most serious, means animals were subjected to "avoidable pain, distress or suffering."
The Bureau's analysis reveals almost half the recorded incidents were category 4 breaches – a total of 4,455, an average of six a day. A single breach can involve hundreds of animals.
Responding to the findings, Neil Parish, chairman of the Commons Select Committee for Environment, Food and Rural Affairs, called for the government to crack down on cruelty at abattoirs. The revelation that an average of six serious welfare breaches happened each day was "shocking," he told the Bureau.
"There is no place for animal cruelty at any stage of farm production – including the slaughterhouse," said Parish, a Conservative MP and farmer. "This country prides itself as having some of the highest animal welfare standards in the world. It's vital the authorities crack down on any abuses and ensure there is zero tolerance to any mistreatment of animals when slaughtered."
The Bureau also reviewed data going back to April 2011. In total over the five years there were 16,370 breaches of welfare regulations, of which 6,241 were category 4. The vast majority of the most severe breaches happened as animals were transported from farms to abattoirs.
The welfare infractions reviewed by the Bureau include a cow being "violently slammed" against a wall following an argument between two workers, an abattoir worker beating three bulls with a wooden stick and electric prod, and a haulier hitting and kicking cattle during unloading, an incident which was caught on CCTV. Many involve sheep being grabbed by the wool and ears or dragged by the horns, or pigs being lifted by their ears and tails.
Failures in the slaughter process itself are also highlighted, with thousands of instances of animals not being stunned or killed properly – in some cases not stunned at all and in others regaining consciousness afterwards. Inspectors recorded cases of chickens and pigs being immersed into tanks of scalding hot water – used to soften the skin and remove hair or feathers – while still alive.

Among the injuries found on livestock presented from farms include a case where a one-eyed cow had a face lesion "completely full of worms" due to an injury which had not healed properly.
A batch of sheep arrived at one abattoir with a large number of conditions – 10 found to be suffering from foot rot, six with respiratory conditions, five with eye conditions, one with ear trauma and one with the parasitic disease sheep scab. At another a three-legged cow – its leg reportedly amputated when it was a calf – arrived "injured and bleeding" with "no bedding in the compartment during transportation."
Inspectors noted one incident where a haulier driver opened a lorry carrying sheep and "saw that the deck had fallen from the driver's side. There were 3 dead sheep and one stuck under the deck." The inspector asked a plant operator to kill the sheep to reduce the suffering.
Almost 600 instances were recorded of animals arriving at slaughterhouses already dead. In one case 574 chickens, from a load of 6,072 birds, died after being left on a lorry for an extended period of time in very hot conditions. This counts as one welfare breach despite involving hundreds of birds. In another example, 165 chickens died on the way to the abattoir and 17 had to be culled immediately as a result of "hypothermia due to transport with summer curtains in freezing weather."
In one consignment of 220 pigs, 33 were dead on arrival at the slaughterhouse with "suffocation concluded as possible cause of death."
The data also highlights practices that could facilitate the spread of the bacteria campylobacter, the most common cause of food poisoning in the UK. About 4 in 5 cases of the infection, which kills about 100 people a year, come from contaminated poultry.
Ensuring birds are as calm as possible when they are being caught and transported is an important preventative measure, because stressed birds defecate more, potentially spreading the infection and increasing the risk of meat contamination. However the data includes regular instances of chickens being "overstocked" in crates and incidents of birds being left on lorries for lengthy periods of time. In one case, because of a breakdown at the plant, 14 trucks were left overnight for more than 12 hours; in another, birds were left in crates at the abattoir for 20 hours.
More than 900 million farm animals are killed for food each year in Britain. There are currently 317 approved slaughterhouses across the UK, most run by a handful of large companies which now dominate the meat processing sector. Many smaller independent abattoirs have been bought out.
Although each facility is responsible for ensuring the health and welfare of livestock processed at the plant – larger abattoirs are required to have a dedicated animal welfare officer – independent vets and meat hygiene inspectors reporting to the FSA are permanently on site to carry out checks.
However union officials representing meat inspectors say there is a staff shortage, meaning breaches are likely to be underreported. "Simply there are not enough staff to monitor animal welfare in areas like the killing rooms," said Paul Bell, a Unison officer with responsibility for abattoirs. Members had witnessed abattoir staff inflicting pain and shouting at animals, he said.
He also claimed inspectors attempting to carry out checks faced bullying and harassment, including "threats of physical violence, victimisation, intimidation, malicious lies and rumours."
It is unclear from the data how many of the breaches resulted in any sanctions or improvements. Most of the level 4 breaches were referred to regional Trading Standards offices, which have responsibility for monitoring farms and transportation, but there is no requirement for the vets and inspectors who make the referral to record details of what happens next.
The FSA is responsible for monitoring welfare inside slaughterhouses. Responding to the Bureau's investigation, it said it had a "zero tolerance" attitude to welfare breaches and used a "proportionate approach" to enforcement. Action could include suspending or withdrawing certificates of competence from slaughterers, referring cases for prosecution, stopping operations or serving welfare enforcement notices.
"There is a comprehensive animal verification procedure in place at every slaughterhouse for monitoring animal welfare," it said in a statement. "4 scores (meaning level 4 breaches) can be the result of unavoidable accidents rather than deliberate abuse."
Reports about welfare concerned only a tiny percentage of animals going through slaughterhouses, it pointed out, saying the vast majority of meat processors complied with regulations.
The fact that serious welfare breaches were the exception not the norm was not the point, said Marc Cooper, head of farm animals at the RSPCA.
"Such incidences of severe pain, distress and suffering are wholly unacceptable and completely avoidable," he said. "If they're avoidable, that means they shouldn't be happening at all – you shouldn't be seeing one. You would hope that strong enforcement action would be taken."
Between June 2014 and July 2016 all level 4 breaches resulted in enforcement action, said the FSA. It did not state what type of action was taken, though in an earlier response to the Bureau it did provide details of cases referred to the Crown Prosecution Service (CPS) in 2013 and 2014.
In 2013 and 2014 the FSA referred 14 breaches of welfare regulations to the CPS, of which four resulted in prosecutions. Three of those prosecutions were later dropped.
Of the remaining cases, four resulted in warning letters being sent out. Over the course of the two years, two slaughterers' licences were suspended and three were revoked for failure to comply with welfare legislation.
Pressure groups and unions – backed by a growing number of MPs – believe mandatory CCTV in abattoirs would help combat welfare breaches, with strict rules needed to ensure the footage was available for review by both veterinary staff and independent auditors. The government has so far failed to legislate on the issue.
According to the FSA's latest estimates, the vast majority of cattle, sheep, pigs and chickens (ranging from 88% to 99% depending on the animal) are killed in premises which have CCTV installed. However the regulator admitted last April that 33 slaughterhouses in England and Wales were refusing to hand over their footage. It has the power to seize footage in certain circumstances, it told the Bureau.
The British Veterinary Association (BVA) is calling for new legislation requiring all abattoirs to install CCTV and provide independent vets with unrestricted access. "CCTV risks being a 'paper tiger' if it is not monitored freely and independently," said BVA president Sean Wensley. "We need to foster a culture of compassion in slaughterhouses, coupled with robust and effective enforcement, so that the animals we farm for food have both a good life and a humane death."
However a large proportion of the mistreatment or neglect reported by vets and takes place before the animals arrive at the slaughterhouses, rendering such CCTV potentially useless. Almost 90% of the most serious category 4 infractions between 2014 and 2016 related to the transport of livestock from farms.
The RSPCA's Marc Cooper said such a finding meant mandatory CCTV inside transport vehicles as well as slaughterhouses should be considered.
Meaningful protection for animals could only come from mandatory, independently monitored CCTV, said Isobel Hutchinson, head of campaigns at Animal Aid. "These damning revelations confirm what our undercover investigations have already exposed," she said. "They show that incompetence and cruelty are rife in UK slaughterhouses, leading to animal suffering on a massive scale."
Stills from footage captured during undercover investigations supplied by Animal Aid.