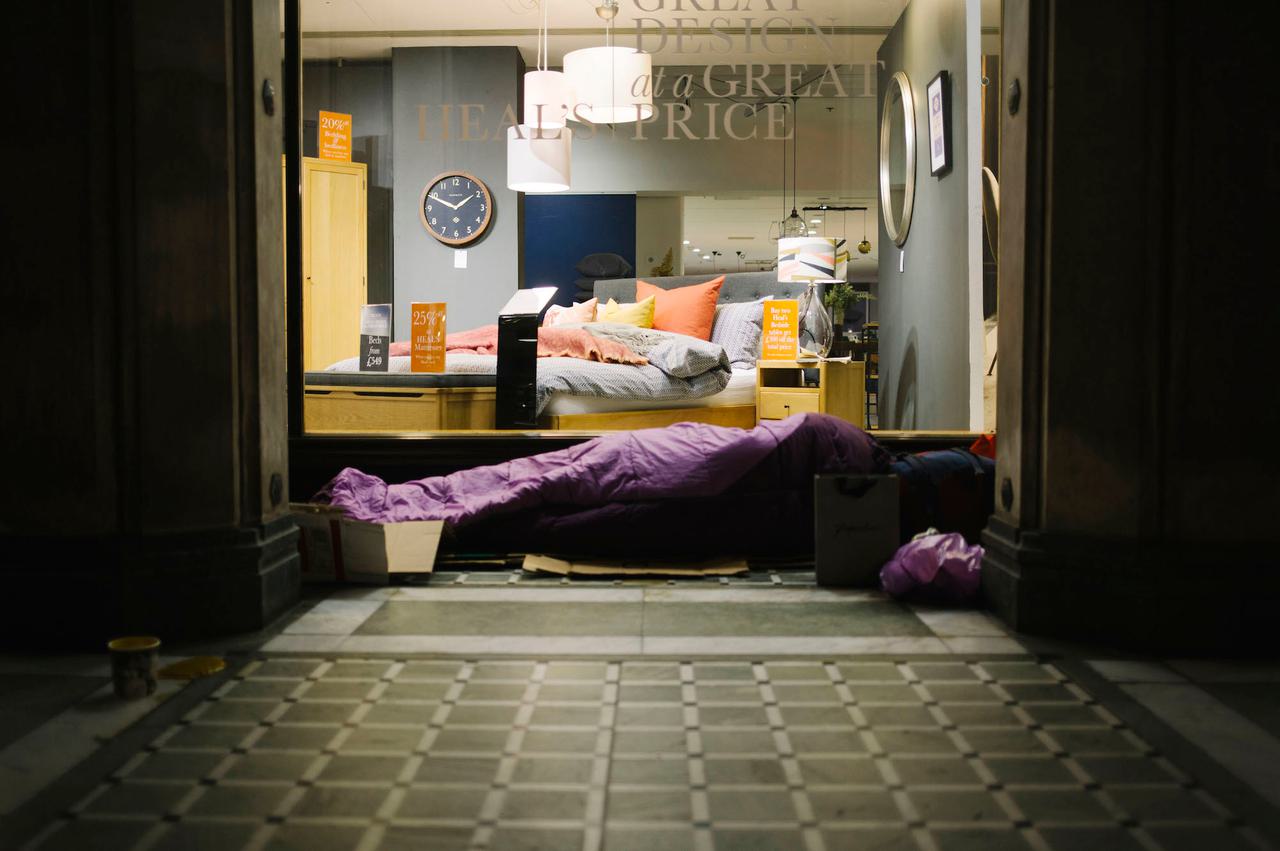 Homelessness kills: Study finds third of homeless people die from treatable conditions
Nearly a third of homeless people die from treatable conditions, meaning hundreds of deaths could potentially have been prevented, a major new study shows.
The research by University College London (UCL), which was exclusively shared with the Bureau, also shows that homeless people are much more likely to die from certain conditions than even the poorest people who have a place to live.
The findings come as the final count from our Dying Homeless project shows an average of 11 homeless people a week have died in the UK in the last 18 months. We have been collecting data dating back to October 2017 and telling the stories of those who have died on the streets or in temporary accommodation; our tally now stands at 796 people. Of those people we know the age of, more than a quarter were under 40 when then they died.
While many might assume hypothermia or drug and alcohol overdoses kill the majority of homeless people, this latest research by UCL shows that in fact most homeless people die from illnesses. Nearly a third of the deaths explored by UCL were from treatable illnesses like tuberculosis, pneumonia or gastric ulcers which could potentially have improved with the right medical care.
In February 2018, 48-year old Marcus Adams died in hospital after suffering from tuberculosis. The same year, 21 year old Faiza died in London, reportedly of multi-drug resistant pulmonary tuberculosis. Just before Christmas in 2017, 48-year-old former soldier Darren Greenfield died from an infection and a stroke in hospital. He had slept rough for years after leaving the army.

"To know that so many vulnerable people have died of conditions that were entirely treatable is heartbreaking," said Matthew Downie, Director of Policy and External Affairs at Crisis. The government should make sure all homeless deaths were investigated to see if lessons could be learned, he said.
"But ultimately, 800 people dying homeless is unacceptable - we have the solutions to ensure no one has to spend their last days without a safe, stable roof over their head.
"By tackling the root causes of homelessness, like building the number of social homes we need and making sure our welfare system is there to support people when they fall on hard times, governments in England, Scotland and Wales can build on the positive steps they've already taken to reduce and ultimately end homelessness."

Twice as likely to die of strokes
Academics at UCL explored nearly 4,000 in-depth medical records for 600 people that died in English hospitals between 2013 and 2016 who were homeless when they were admitted. They compared them to the deaths of a similar group of people (in terms of age and sex) who had somewhere to live but were in the lowest socio-economic bracket.
The research gives unprecedented insight into the range of medical causes of homeless deaths, and provides yet another reminder of how deadly homelessness is.
The homeless group was disproportionately affected by cardiovascular disease, which includes strokes and heart disease. The researchers found homeless people were twice as likely to die of strokes as the poorest people who had proper accommodation.
A fifth of the 600 deaths explored by UCL were caused by cancer. Another fifth died from digestive diseases such as intestinal obstruction or pancreatitis.
Our database shows homeless people dying young from cancers, such as Istvan Kakas who died aged 52 in a hospice after battling leukaemia.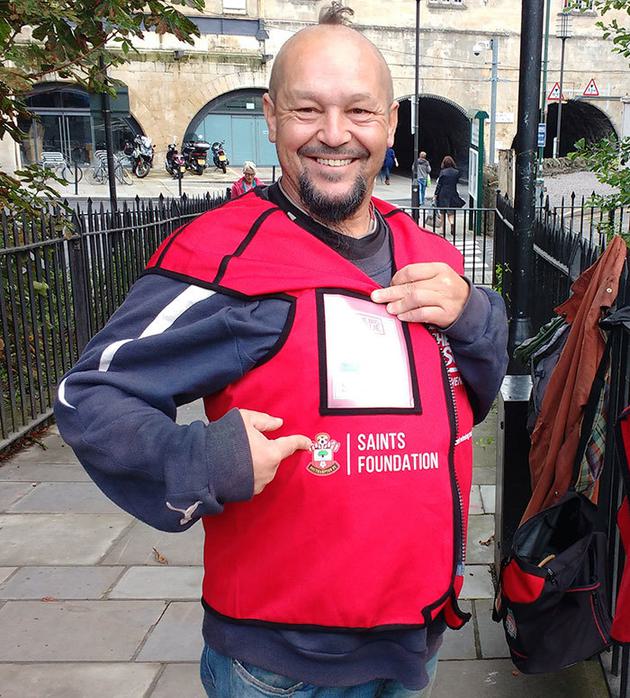 Istvan, who sold The Big Issue, had received a heroism award from the local mayor after he helped save a man and his daughter from drowning. Originally from Hungary, he had previously worked as a chef under both Gordon Ramsay and Michael Caines.
Rob Aldridge, lead academic on the UCL team, told the Bureau: "Our research highlights a failure of the health system to care for this vulnerable group in a timely and appropriate manner."
"We need to identify homeless individuals at risk earlier and develop models of care that enable them to engage with interventions proven to either prevent or improve outcomes for early onset chronic disease."
Of the deaths we have logged in the UK 78% were men, while 22% were female (of those where the gender was known). The average age of death for men was 49 years old and 53 years old for women.

The spread of tuberculosis
In Luton, Paul Prosser from the NOAH welfare centre has seen a worrying prevalence of tuberculosis, particularly amongst the rough sleeping migrant community. A service visits the centre three times a year, screening for TB. "Last time they came they found eight people with signs of the illness, that's really concerning," said Prosser.
"There are a lot of empty commercial properties in Luton and you find large groups of desperate homeless people, often migrants, squatting in them. It is easy for them to get lost in the system and forgotten about and then, living in such close quarters, that is when the infection can spread."
"When people dip in and out of treatment that is when they build a resistance to the drugs," Prosser added. "Some of these people are leading chaotic lives and if they are not engaging that well with the treatment due to having nowhere to live then potentially that is when they become infectious."
One man NOAH was helping, Robert, died in mid-2017 after moving from Luton to London. The man, originally from Romania, had been suffering from TB for a long time but would only access treatment sporadically. He was living and working at a car-wash, as well as rough sleeping at the local airport.
Making them count
For the last year the Bureau has been logging the names and details of people who have died homeless since October 1, 2017. We started our count after discovering that no single body or organisation was recording if and when people were dying while homeless.
More than 80 local news stories have been written about the work and our online form asking for details of deaths has been filled in more than 140 times.
Our work and #MakeThemCount hashtag called for an official body to start collecting this vital data, and we were delighted to announce last October that the Office for National Statistics is now collating these figures. We opened up our database to ONS statisticians to help them develop their methodology.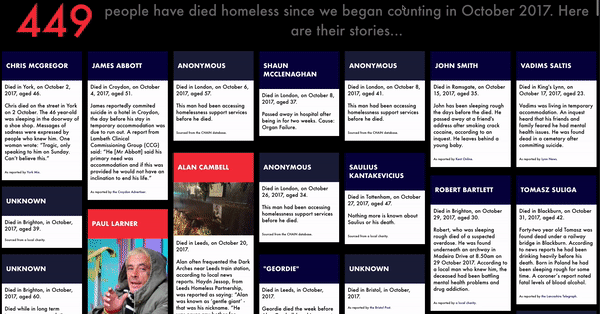 We also revealed that local authority reviews into homeless deaths, which are supposed to take place, were rarely happening. Several councils, including Brighton & Hove, Oxford, Malvern and Leeds have now said they will undertake their own reviews into deaths in their area, while others, such as Haringey, have put in place new measures to log how and when people die homeless.
Councillor Emina Ibrahim, Haringey Council's Cabinet Member for Housing, told the Bureau: "The deaths of homeless people are frequently missed in formal reviews, with their lives unremembered. Our new procedure looks to change that and will play an important part in helping us to reduce these devastating and avoidable deaths."

Members of the public have also come together to remember those who passed away. In the last year there have been protests in Belfast, Birmingham and Manchester, memorial services in Brighton, Luton and London, and physical markers erected in Long Eaton and Northampton. Last week concerned citizens met in Oxford to discuss a spate of homeless deaths in the city.
In a response to the scale of the deaths, homeless grassroots organisation Streets Kitchen are now helping to organise a protest and vigil which will take place later this week, in London and Manchester.
After a year of reporting on this issue, the Bureau is now happy to announce we are handing over the counting project to the Museum of Homelessness, an organisation which archives, researches and presents information and stories on homelessness.
The organisation's co-founder Jess Turtle said they were honoured to be taking on this "massively important" work.
"The sheer number of people who are dying whilst homeless, often avoidably, is a national scandal," she said. "Museum of Homelessness will continue to honour these lives and we will work with our community to campaign for change as long as is necessary."
Matt Downie from Crisis said the Bureau's work on the issue had achieved major impact. "As it comes to an end, it is difficult to overstate the importance of the Dying Homeless Project, which has shed new light on a subject that was ignored for too long," he said. "It is an encouraging step that the ONS has begun to count these deaths and that the stories of those who have so tragically lost their lives will live on through the Museum of Homelessness."
The government has pledged to end rough sleeping by 2027, and has pledged £100m to try to achieve that goal, as part of an overall £1.2bn investment into tackling homelessness.
"No one is meant to spend their lives on the streets, or without a home to call their own," said Communities Secretary James Brokenshire. "Every death on our streets is too many and it is simply unacceptable to see lives cut short this way."
"I am also committed to ensuring independent reviews into the deaths of rough sleepers are conducted, where appropriate – and I will be holding local authorities to account in doing just that."
Header image of person sleeping in a shop doorway by Alex Sturrock
Our reporting on homelessness is part of our Bureau Local project, which has many funders. None of our funders have any influence over the Bureau's editorial decisions or output.