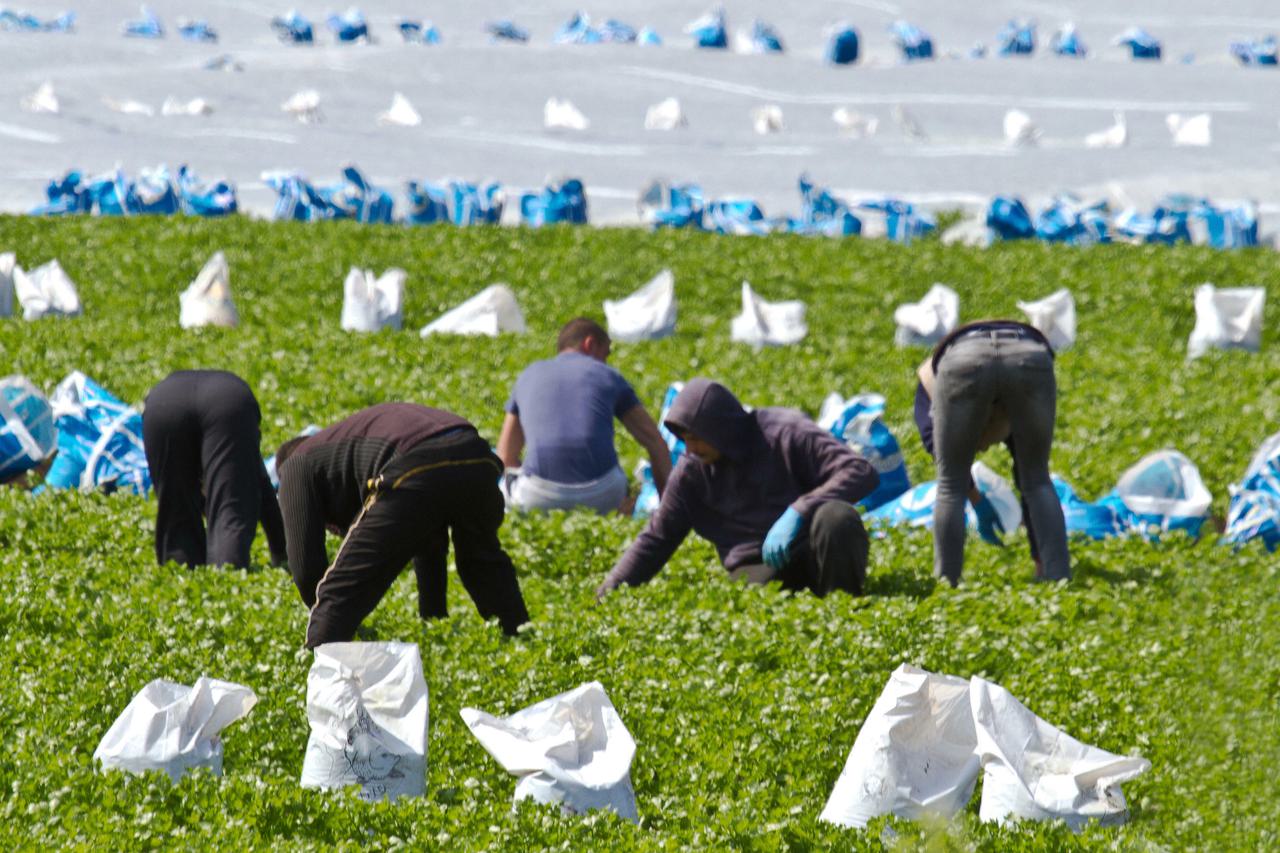 New report urges stronger protections for UK's seasonal workers
House of Lords report citing TBIJ evidence demands clampdown on abuse, poor living conditions and illegal fees
The House of Lords has published a new report urging the government to clamp down on the abuse that seasonal workers face on UK farms. This follows revelations by the Bureau of Investigative Journalism (TBIJ) that hundreds of migrant workers in the UK's agriculture sector have raised welfare issues including threats, wage theft and racism.
The Horticultural Sector Committee's report, published on Monday, recommends a number of new measures including that the government split up labour inspectors from immigration enforcement. Citing concerns that workers are often deterred from reporting abuse for fear it might affect their immigration status, the report advises the government to "provide an official source of redress to seasonal workers that is not linked to immigration".
It also urges the Home Office to increase the budget for the Gangmasters and Labour Abuse Authority (GLAA), the public body tasked with overseeing this area, and to ringfence some of this money for the hiring of extra labour inspectors.
TBIJ reporter Emiliano Mellino identified both of these steps as potential improvements to the system at a hearing with the select committee in June. Mellino's evidence is cited in the report.
It asks the government to more "proactively enforce" the rules that all seasonal workers are paid the national living wage (£10.42/hour) and given a minimum of 32 hours of work per week. And it recommends updated guidance that makes clear this applies for the full six months of their visa. The current absence of such guidance has resulted in workers being left for weeks without work or pay, the committee heard as evidence.
The report also recommends the introduction of compulsory welfare spot-checks between months three and six at farms employing seasonal workers, with penalties for those failing to abide by labour laws.
It says that all interviews conducted with workers during these spot-checks should be anonymous, confidential and available in the worker's first language. "It should be made clear that it has no link to their immigration status," says the report.
In an investigation last month, TBIJ found that nearly half of 845 workers interviewed by the Home Office at farm inspections between 2021 and 2022 raised welfare issues.
The committee also advised the Home Office to issue new guidance to ensure that health and safety standards are upheld for caravans housing workers.
One farm worker interviewed by TBIJ, who also gave evidence to the House of Lords in June, recounted having to stay in a caravan cold enough to put him at risk of hypothermia. "It's almost the same as living on the street," he said.
The committee said this new guidance should clarify that workers' caravans would have to meet British Standard to which residential park homes are built, with local authorities given a duty to inspect and enforce this.
As it stands, councils have virtually no power to enforce housing regulations on seasonal workers' caravans or even inspect them. "They are almost completely unregulated," a lawyer told TBIJ.

The Bureau newsletter
Subscribe to the Bureau newsletter, and hear when our next story breaks.
TBIJ also found that some workers were being charged not only for their accommodation but also gas, electricity, bed linen, duvets, pillows and use of washing machines. Monday's report encourages the GLAA to consider how to ensure workers are not charged fees beyond what is permitted by law. It also says that rental contracts should be in the seasonal workers' first language, and signed and agreed ahead of their arrival in the UK.
The committee said it has heard evidence to suggest that some seasonal workers are being charged extremely high illegal recruitment fees – an issue revealed by TBIJ last year. The report urges that the GLAA clamp down on the "scammers, criminals and the overseas staff of scheme operators" who charge these fees.
The Horticultural Sector Committee also demanded that the government uphold its promise to publish its review of the seasonal worker scheme.
"Seasonal workers work in the UK for a short time," says the report, "but for the time that they are here, they are owed the full protection of existing UK employment laws and standards."
Reporter: Lucy Nash
Bureau Local editor: Gareth Davies
Deputy editor: Chrissie Giles
Editor: Franz Wild
Production editor: Alex Hess
Fact checker: Alex Hess
Our Bureau Local project has several funders. None of our funders has any influence over our editorial decisions or output.
Subject:
UK government
Food
Workers' rights