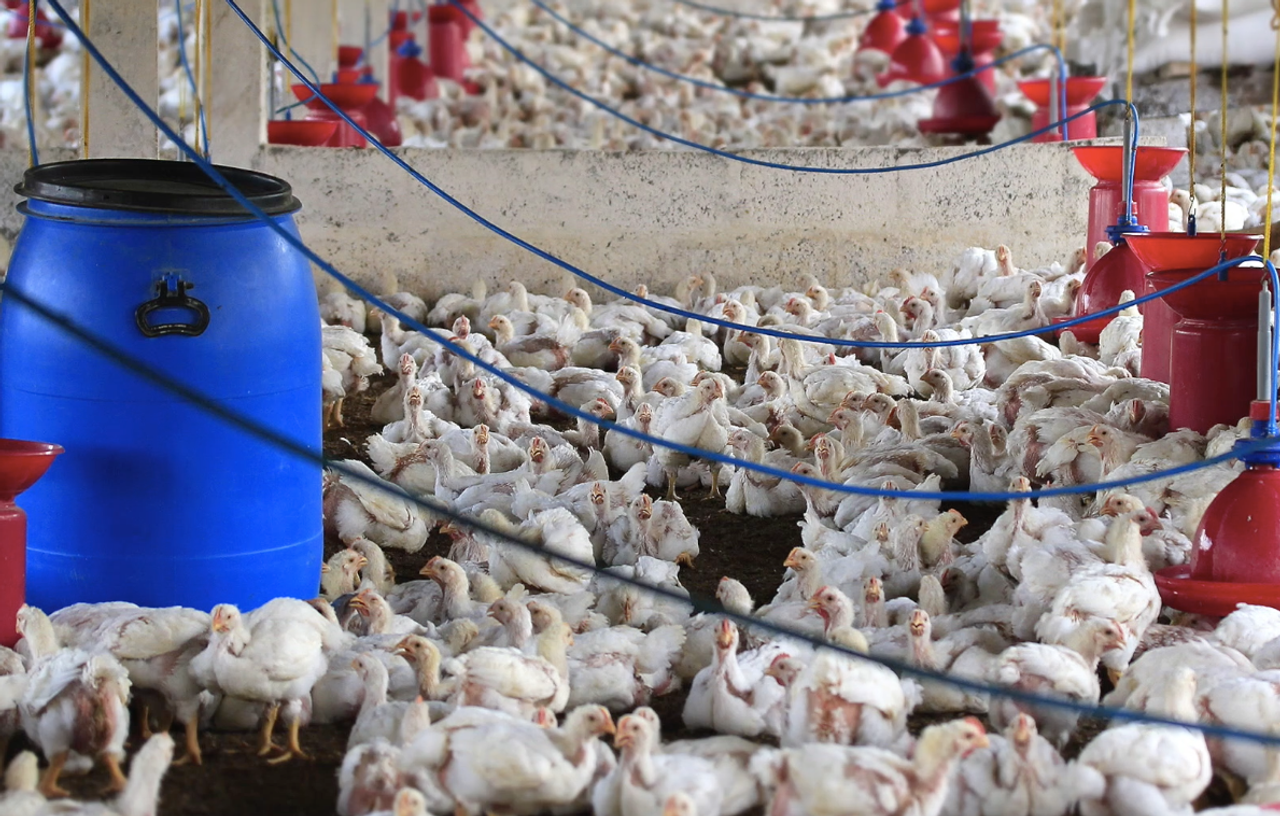 Intensive meat and fish farming poses high risks says investors' group
Venky's chicken one of big producers rated badly on antibiotic use policies
A new report on the 60 largest publicly-listed meat and fish producers says that over half are failing to appropriately document their impact on the environment, health and society. Many of the names in the report will be unfamiliar. But their consolidated revenues cover around a fifth of the global livestock and aquaculture market; roughly one in every five burgers, steaks or fish worldwide.
The companies looked at by the Farm Animal Investment Risk and Return (FAIRR) report include giants like the Australian Agricultural Company, which has the biggest cattle herd in the world, the Chinese WH Group, the largest global pork company and the American firm, Sandersons, which processes more than ten million chickens a week.
Many of the 60 companies run so-called vertically integrated systems, in which they source meat from their contracted farmers around the world, process it themselves through their own slaughter and packing houses and then sell products on to front-line, more familiar companies such as McDonalds, Walmart, Nestle and Danone.
But a close examination by the FAIRR group, which indexed the companies, has shown that, despite their critical part in our food system, many of these companies appear to be inadequately fulfilling some of their social responsibilities. The organisation, which was founded by financier Jeremy Coller in 2015, says that this could have potential implications for share prices. Coller's report says the intensive farming sector is "very sensitive to changing public sentiment" and warns that very large sums of investor money in the sector are often at potential risk due to little-understood risk factors.
Climate change, animal welfare, water scarcity, deforestation and working conditions were some of the areas in which the 60 largest protein-producing companies around the world were assessed. The index looked at self-declared information from each company, and set a wide range of key performance indicators.
One of those was whether companies had responsible policies on antibiotic use. Antibiotic resistance has soared in recent decades and is now considered one of the biggest public health threats facing the world. The role of farming and food production in spreading resistant bacteria has come under increasing scrutiny in recent years as growing evidence points to a direct threat to human health from overuse of antibiotics on farms.
Despite this, there has been a "widespread failure to respond" adequately to the crisis, the report says. The authors state that 77% of the sector - amounting to 46 companies worth between them an estimated $239billion, rank "high risk" on antibiotic stewardship, with "little or no measures in place to reduce excessive use of antibiotics" , despite increasing global focus on the issue.
Donate to the Bureau
Investigative journalism is vital for democracy. Help us to tell the stories that matter
Click here to support us
Abigail Herron, Global Head of Responsible Investment, Aviva Investors which is one of the members of the FAIRR network said she believed the research indicated that three quarters of the listed companies appear to be "ignoring the calls from regulators, health professionals and the financial community to manage and reduce their use of antibiotics. That failure puts both global public health and their business models at risk."
Colin Nunan from the Alliance to Save Our Antibiotics, a network of organisations campaigning to reduce the use of antibiotics in farming, said the Coller Index showed that more than three quarters of the largest publicly-quoted "intensive livestock and fish farming companies shamefully still allow routine antibiotic use on their farms. Globally, intensive farms already account for about 70% of all antibiotic use, and scientists expect this use to increase rapidly in the next decade if livestock farming continues to expand and intensify. Proper controls on antibiotic use must be a made a key factor in all trade deals affecting the importing and exporting of livestock products."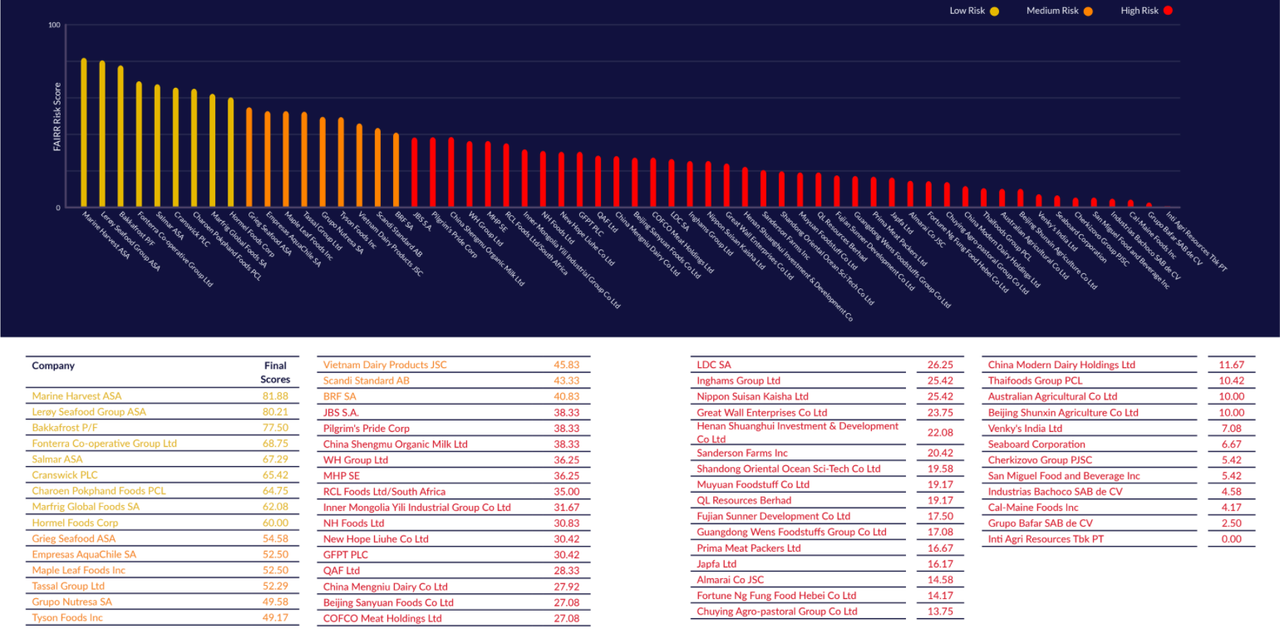 Indian poultry giant, Venky's, is amongst the companies ranked by the index as "high risk" on antibiotics. Sanderson Farms, one of the US's largest poultry producers, is also given a bottom-tier ranking.
A recent Bureau investigation revealed that Venky's had been advertising colistin, a so-called "last resort " antibiotic, for sale as a growth promoter in India. It is one of five pharmaceutical companies about which concerns about this practice were raised. Venky's supplies meat, directly and indirectly, to fast food chains in India such as KFC, McDonald's and Dominos Pizza.
"Colistin is the last line of defence", said Professor Tim Walsh of Cardiff University, who is also an adviser to the United Nations on antimicrobial resistances. "It is the only drug we have left to treat critically ill patients with a carbapenem-resistant infection. Giving it to chickens as feed is crazy."
Although the company would not have been breaking any laws in India by selling colistin, it said it would comply with any future regulatory changes. The company said: "Our antibiotic products are for therapeutic use – although some of these in mild doses can be used at a preventive level, which in turn may act as growth promoters ...We do not encourage indiscriminate use of antibiotics."
This month the company was ordered to modify or withdraw a "misleading" front page advertisement in the Times of India (pictured below) which the advertising regulator ruled downplayed the risks of antibiotic resistance from poultry farming. The advertisement had been created in response to the furore around the Bureau's investigation.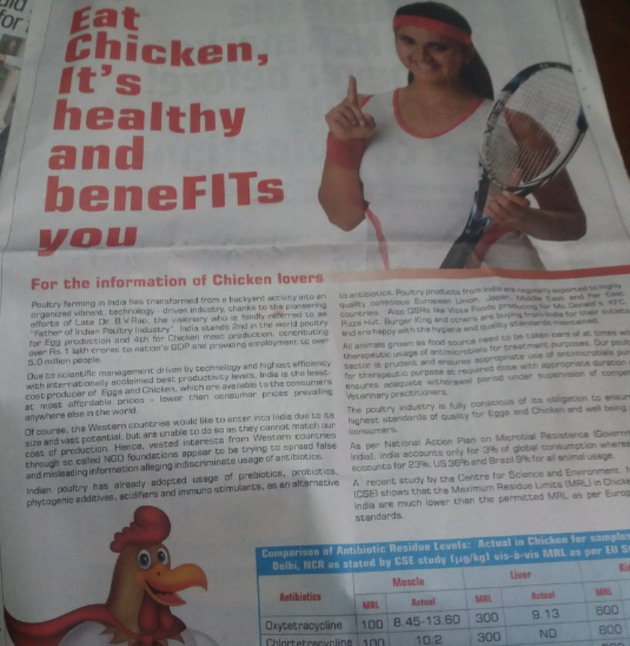 The index also claims there is growing evidence of "poor animal welfare that results from intensive farming and unhygienic and unsanitary practices", which could impact food safety. Amongst companies ranked is Pilgrims Pride, a US poultry firm found by a Bureau/Guardian investigation to regularly have been in breach of food safety regulations in some of its US abattoirs.
Unpublished documents revealed there had been frequent failings at 24 plants operated by Pilgrim's Pride, who recently bought the British chicken giant Moy Park. The company slaughters 34 million birds each week and produces one in five of the chickens in the country.
More than 16,000 non-compliance reports on Pilgrim's Pride operations detailed 36,612 individual regulatory violations - an average of 1,464 a month - at the 24 plants during a 25-month period between 2014 and 2016. The company's parent company JBS responded that "All of the documented incidents were immediately addressed by our facilities. None of these incidents put anyone at risk or resulted in any adulterated product released into commerce."
The index also assessed whether the companies were monitoring their CO2 and methane emissions which increase global warming. It reported that nearly three out of four (72%) of the world's biggest meat and fish companies had provided little or no evidence to show that they had been measuring or reporting their emissions, despite the fact that, as the report points out, livestock production represents 14.5% of all greenhouse gas emissions.
Coller's Index suggests that safeguarding rainforests is another area in which many companies are falling short. The FAIRR assessment finds that of the 24 listed companies involved in beef and dairy production which is one of the biggest drivers of deforestation, only one is assessed as "low risk".
Coller also looked at the issue of water. Agriculture is around 70% of all freshwater use globally, but according to the report only a third of the companies had a clear plan for water management in their operations.
Abigail Herron, from Aviva, concluded: "From fast food to fine dining, much of the food on our plates leads back to the livestock and fisheries sector assessed by this Index. That is why it is of deep concern to investors that a majority of these global food suppliers are failing to manage such significant business risks" in an adequate way.
Header photo, of the Indian poultry sector, by Bureau freelancer, Rahul Meesaraganda