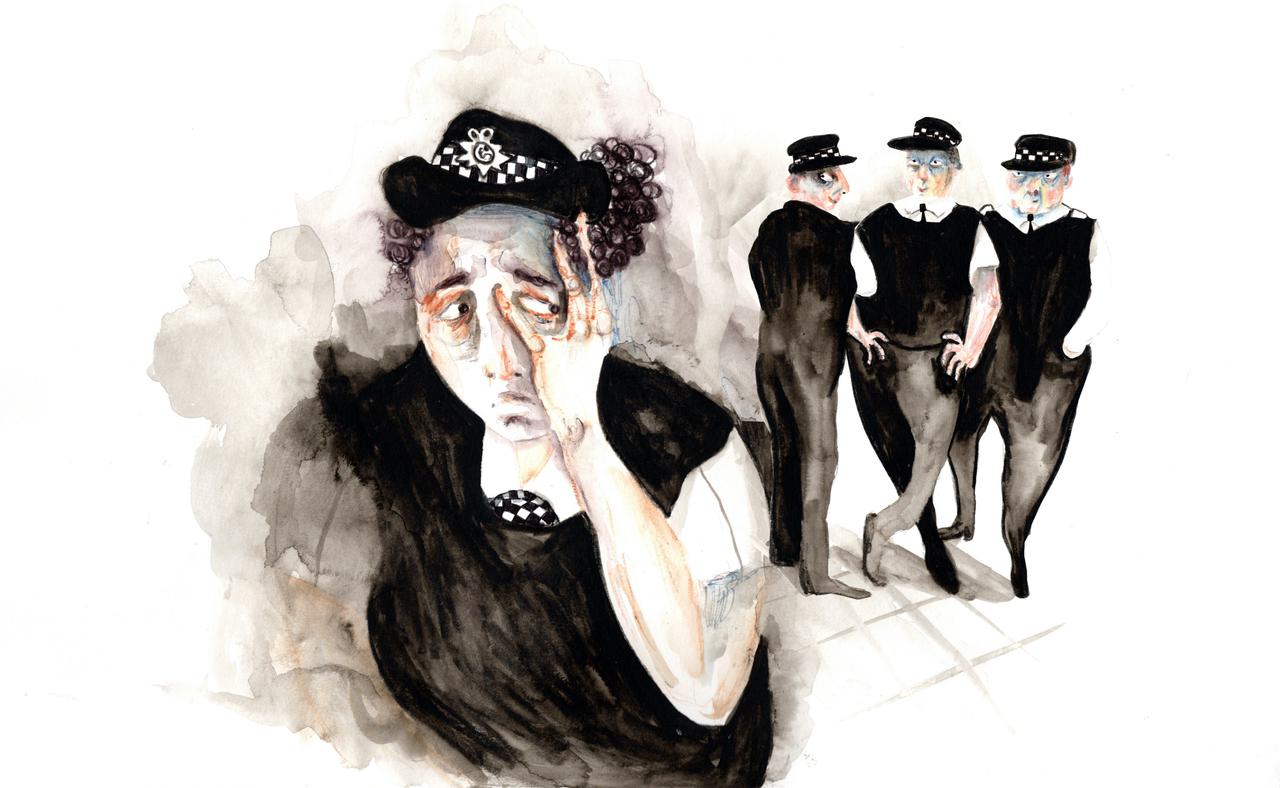 Met officer alleged to have violently sexually abused two colleagues
A Metropolitan police officer has been allowed to continue working for the force unsuspended for three years after two colleagues accused him of sexual and physical abuse including rape, allegations which were later not taken forward by the Crown Prosecution Service. Even as the Met restricted his interactions with the public, it has never seen fit to prevent him working alongside other female officers.
Last year the Criminal Injuries Compensation Authority, which compensates the victims of violent crimes, awarded both women substantial sums after it concluded that police evidence indicated each had been the victim of serious sexual and physical abuse.
The government-run compensation body evaluates claims based on the balance of probabilities. The CPS – which examines the likelihood of a jury convicting on the higher criminal burden of proof of beyond reasonable doubt – decided there was not enough evidence to take the officer to court.
This followed an investigation by Essex police into allegations of rape and abuse made by both women which, by that force's own subsequent admission, had featured numerous shortcomings and decisions made using "very poor rationale". However, Essex police concluded that despite these shortcomings, the matter would still not have resulted in successful criminal proceedings.
The two women, Kate* and Holly*, lived with the man in question, David*, during their respective relationships with him, which they describe as a carbon copy of one another and left them each traumatised. Both feel badly let down after coming forward to report their allegations.
Kate has been left to believe the police are inadequate at dealing with allegations of rape and domestic abuse. "I have no trust in the service I work for," she told the Bureau.
"I just feel really sad," Holly said. "You feel like you're being gaslit by the police." She described her frustration at having to take part in a recent sexual offences awareness week at work. "They're putting out all the propaganda encouraging women and men to come forward and deal with sexual assault. I was left feeling a bitter taste in my mouth, thinking, 'But you can't even look after your own adequately.'"
Police professional standards departments are supposed to apply a similar "balance of probabilities" test as the criminal injuries compensation scheme. Home Office guidance says a police officer being investigated for misconduct should be suspended from work if the nature of the allegations means this is in the public interest. David has not worked in a public-facing role since the women complained to the Met in 2017 but has never been suspended and a decision to initiate disciplinary proceedings against him was only taken recently.
The compensation authority wrote to each of the women saying that police evidence indicated that both had experienced "non-consensual penile penetration". It concluded Holly had been a victim of "sexual abuse" and a "crime of violence", and had suffered "suspected fractured ribs" and "physical assaults". The authority said in its view Kate had also experienced "serious physical abuse".
The Met told the Bureau: "Whether an officer should be restricted or suspended is a decision made … based on very careful consideration for all the specific circumstances in every case, including management of risks." It added that a criminal investigation or conviction does not automatically mean an officer will be suspended, and that David's work status has been subject to regular review.
Jess Phillips MP, the shadow minister for domestic violence, said the Met should review its protocols. "The public would expect an officer under investigation for such a thing to at least be suspended," she told the Bureau. "There is an enormous piece of work that is going to need to be done to make people feel they're going to be listened to and believed, especially when their alleged perpetrator is a serving police officer."
Conservative MP Caroline Nokes said it is crucial that women reporting crimes feel supported. "The failure to investigate in a prompt manner and suspend accused officers from work simply doesn't encourage victims to speak out," she said.
Home Office guidance says internal police misconduct investigations should generally be carried out in parallel with any possible criminal proceedings. The Met was kept informed about the criminal investigation into David, yet only formally decided this year – a year after the CPS declined to proceed with any criminal charges – that he should face gross misconduct proceedings. This could potentially result in his dismissal if there is a finding against him, but it may still be several months more before his hearing takes place.
The Met told the Bureau it was not appropriate to progress misconduct proceedings until criminal matters had been finalised, so all available information could be considered. It said the hearing would be "expedited as quickly as possible".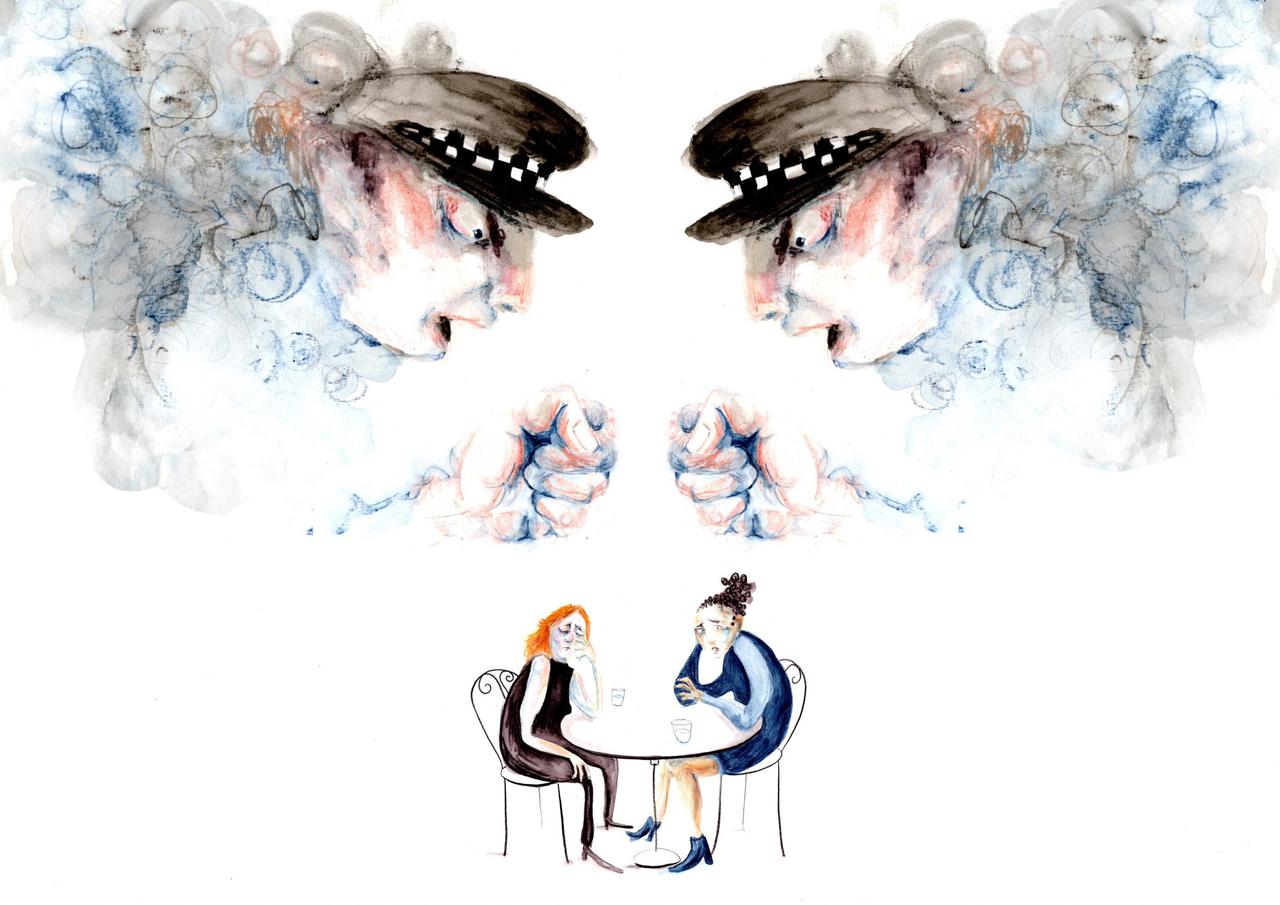 "I was scared he might come to my house"
When Kate first started seeing David – after his relationship with Holly had ended – she perceived him to quickly become controlling. "He started abusing me after four months of being together," she said. "I was a very confident person: sociable, outgoing. I ended up being a recluse. I wasn't allowed out without him saying [I could]."
She said she ended the relationship after an incident of particularly frightening abuse, and that she made contact with Holly through colleagues, wanting to know if he had treated her in the same way. The two say they had not spoken to each other before that day.
Holly told Kate a similar story of her relationship with David. She alleges that David had repeatedly warned her the Met would not believe her if she reported his behaviour.
"He would tell me his influence was far-reaching in the [Met] and claimed that his 'spies' were watching me," she said. "He would constantly remind me I was only a young female officer."
Holly said she lost over a stone and a half in weight during her relationship with David. "I was a shell of the person I was before," she said.
She feels that her pleas, after the relationship had ended but before she made her formal complaint, for David to be moved away from her at work were ignored by the Met. In the end she transferred herself to another department to avoid him.
Kate said that hearing Holly describe her experiences was harrowing. "It was like listening to myself speak. The things she'd tell me were like a carbon copy of what he'd done to me. I was just left in complete and utter shock."
Both women allege David had separately described each of them as psychopaths and told them they were too ugly to look at.
David did not respond to the Bureau's request for comment.
Her conversation with Kate persuaded Holly to register official complaints of rape and domestic abuse. "It sounded [from Kate] like he had treated her even worse than me, and I didn't want another woman to go through that," she said. The allegations should have been kept confidential, and yet she said details seeped out among her colleagues.
Kate said David rang her. "I was petrified after that," she said. "He said, '[Holly] has made a historic allegation against me. I know I shouldn't call you." She thought his call might be an attempt to persuade her not to make a similar complaint.
"Knowing how his moods could change at times … I was also scared he might come to my house," said Kate. For a time she was too scared to report her own allegations of rape and domestic abuse to the police, but she summoned up the courage a few weeks later to join Holly in formally coming forward.
Because of where most of the incidents in question had occurred, the investigations into both women's allegations were run by Essex police. After just over a year the case was dropped by the Crown Prosecution Service – which in 2019 prosecuted one in every 70 alleged rapes reported to the police in England and Wales – on the grounds that there was not enough evidence to proceed. But both women are adamant the police did not conduct an adequate prior investigation.
Their frustration is vindicated by the police's own findings. Essex police commissioned an internal review into both cases, which uncovered a string of shortcomings in the investigation process. These included:
• The suspect was not arrested
• There was "very poor rationale" in decision-making
• Some potential witnesses were never spoken to
• Electronic evidence the women offered was not captured
• "It may be possible the suspect was treated differently" because he was a police officer
The internal reviewer said this left Essex police "open to having to accept criticism" but concluded the failings were unlikely to have affected the decisions not to charge and said the nature of the investigation did not cause undue concern. It added there was "no evidence that the victims were treated differently" because they were police officers.
A separate professional standards report into Kate's case found that the main investigating officer in both cases was, according to their supervisor, "not performing to a high standard" and that a police interview with David did not happen on the basis of a note from his doctor. It stated: "The suspect should have been seen by the force medical doctor who would have determined whether he was fit for interview … The [author of the report] has not heard of anyone walking into custody with a note from their [doctor] regarding what questions they can or cannot answer."
Essex police told the Bureau: "We do not believe that anyone – whether they are reporting a crime, or being investigated on suspicion of committing one – should be treated differently because of their profession ... We carried out lengthy investigations, which were carried out by specialist detectives and highly trained civilian staff.
"We know there were areas for improvement in the management of these investigations, and these were addressed during a complaints process … But even with these changes in place, it is not believed that the case would have reached a successful charge."
Essex police said David was not arrested because "there was no immediate safeguarding concern due to the non-recent nature of the allegations and the lack of contact between suspect and victims. We were also liaising closely with our colleagues at the Metropolitan police … regarding further safeguarding and wellbeing of the victims."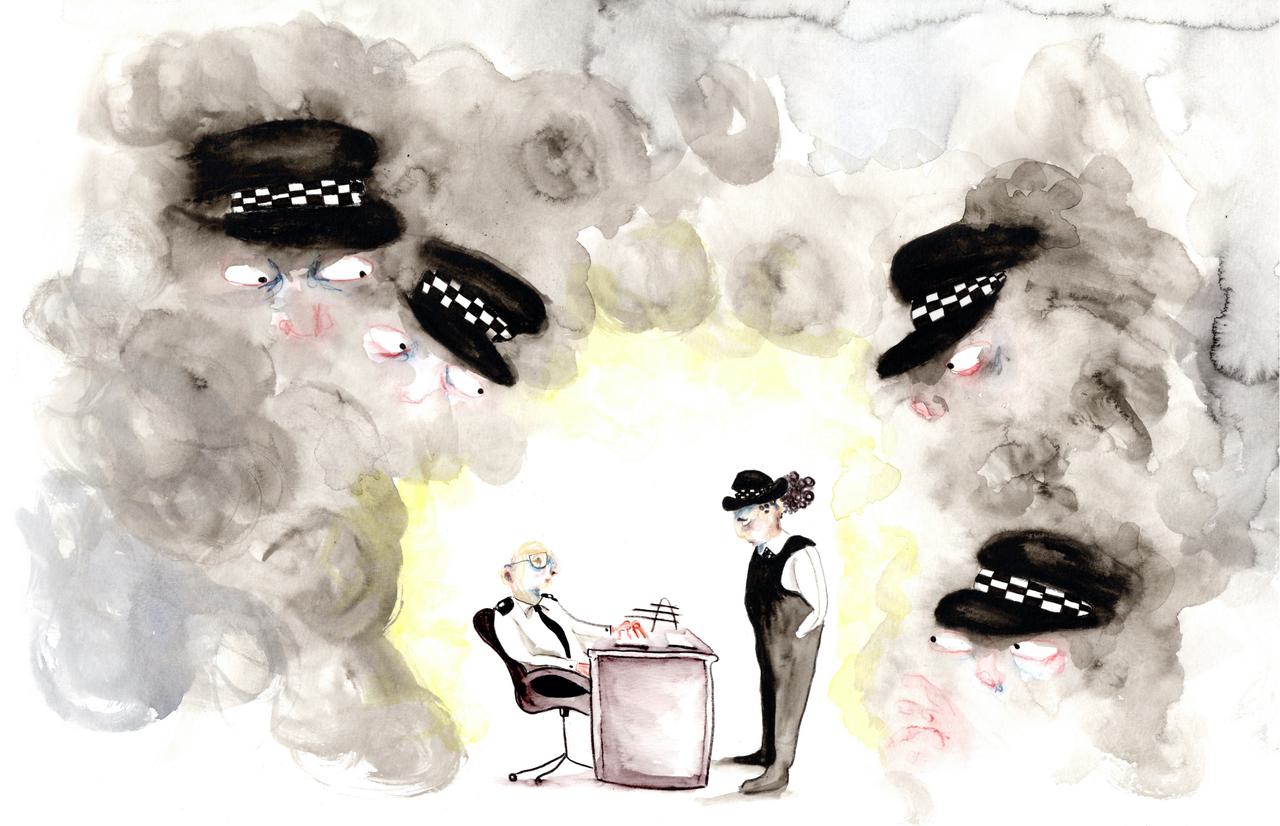 "It broke me"
Holly is angry at what she sees as the Met's failure to adequately deal with concerns that David had been tipped off from within the force about her confidential allegations. She said this issue was reported to the force's professional standards department at the time.
According to internal communications seen by the Bureau, officers investigating her sexual abuse allegations believed "it was clear that [David] had been in receipt of information that he should not have been aware of and that this had an impact on the investigation".
A Met officer who was assigned to observe the case said in an internal email: "The disclosures made to [David] permitted him to set out his own position … preparing an early defence and to cause significant trauma to the victims."
The observer added that any officer found guilty of passing on the information should face dismissal or a reduction of rank. But it is understood that the Met has only been considering taking action against the suspected leaker at a relatively low level of seriousness, meaning the most they could then face is a warning.
"I just feel so let down and angry that it may only be a slap on the wrist," Holly said. "Part of me is worried this could be being treated as a local [low-level] investigation so it doesn't get out to the public."
The Met told the Bureau that it accepts there was a delay in formally recording this for investigation.
Intimate details about Holly's allegations spread among her colleagues and got back to her. The gossip added another layer of trauma. "It broke me. It broke me the same amount he'd managed to break me," she said. "Of all people in the world, I wanted to trust the police. Suddenly that worst moment of your life is bandied around like something some famous person has done, like it means nothing to them … It broke my heart.
"I should have been able to make a rape allegation to the police in complete confidence and know that the content of that allegation would be kept strictly confidential."
The stress eventually forced her to take time off. Even now, she said, going into certain police stations when on duty will cause her heart palpitations. "I stand there and think, 'What do you know about me?' And that will stay with me for the rest of my career. I fear I will always be seen as the [alleged] 'rape victim' – that banner will never leave me."
The Bureau has previously reported on allegations of domestic abuse by police officers who were accused of using their positions within the force to intimidate their victims. In some instances, forces have failed to properly investigate or discipline the officers where appropriate and in various cases, the women – like Holly and Kate – worked for the same police forces as their alleged abusers. Some women believed forces had not adequately investigated their allegations in order to avoid bad publicity; at least one said she was bullied at work after reporting her partner.
The Met told the Bureau that it takes all allegations of domestic abuse extremely seriously. It said: "We continue to offer welfare support and assistance to the victims in this case."
Holly has been left completely disillusioned by the force. "This is just not how the Met should be treating victims of domestic abuse," she said. "I now feel like I will forever carry this with me while I stay within the police."
Kate feels equally let down by the institution she serves. "I'm at a point where I can't physically go to a domestic abuse call," she said. "I've lost all faith in it."
* All names have been changed for legal reasons
Reporter: Alexandra Heal
Investigations editor: Meirion Jones
Production editor: Alex Hess
Fact checker: Chrissie Giles
Legal team: Stephen Shotnes (Simons Muirhead Burton)
Illustrations: Danny Noble
This report was supported by core Bureau funds. None of our funders have any influence over the Bureau's editorial decisions or output.