Instagraft: Covid conspiracy theorists selling silver spray and $50 seawater
Before he tells his followers that the coronavirus vaccine will change their DNA and possibly kill them, Steven Baker sprays himself theatrically using a small bottle of "colloidal silver". This, he claims, kills all kinds of microbes. As it would happen, his website sells it.
He continues: "Real immunity happens when you get an infection, not when you get a shot that changes your cellular makeup and creates what you call a spike protein, therefore forever changing your DNA and your cells and making you more likely to have an autoimmune disease … Listen, here's the thing I couldn't say a year ago, the vaccine kills people."
Alongside his Instagram video, posted last month, is a marketing pitch, a promo code for his website, which sells "health supplements", and a disclaimer: "Dr Baker takes the same supplements that he is telling you about. Yes, Dr Baker does make money when you buy these supplements, this is not a charity. The money goes to help Dr Baker keep doing online videos to wake you up."
Alongside his dangerous and false statements about coronavirus vaccines and promotions for "alternative" therapies, Baker has a curious claim in one of his posts: "Dr Baker is a chiropractor. This means he knows more than medical doctors about helping people to actually heal. This video is not intended to give medical advice, treat, or diagnose."
Baker is behind one of the more than 100 Instagram accounts identified by the Bureau of Investigative Journalism as using the platform to seek to make money as a consequence of spreading misinformation about Covid-19 and vaccines. In total, the accounts reach almost 6m people and promote a combination of false claims, some of which can potentially be dangerous, and products, from health supplements to wellness courses to juicers.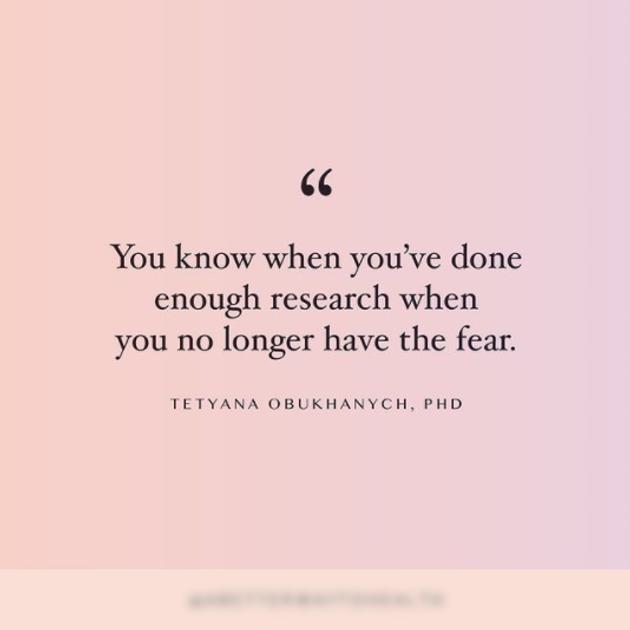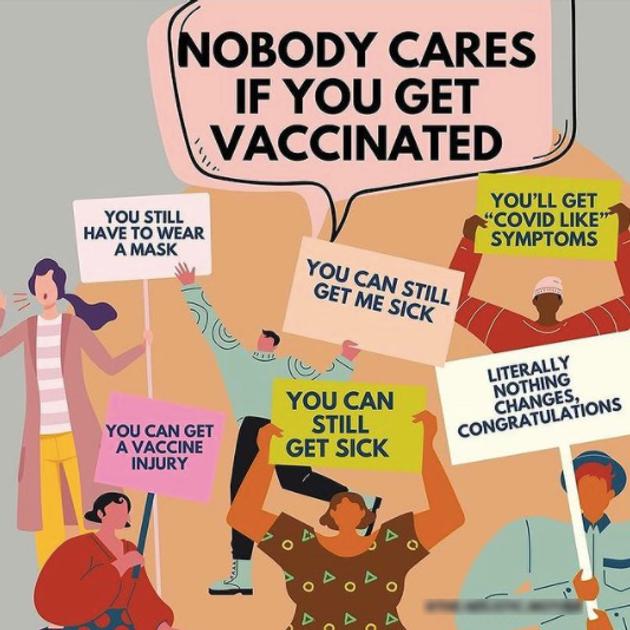 Despite claims from Instagram that it is taking more action on health misinformation, such as restricting the reach of videos like Baker's, these channels are still growing. Over the first three months of this year the accounts gained almost a million followers between them, according to data from Facebook-owned service CrowdTangle.
Our investigation shows that Facebook, which owns Instagram, continues to be in breach of a commitment to the UK government last November to the principle that no one should profit from coronavirus vaccine misinformation online. The Bureau previously found hundreds of pages on Facebook itself using monetisation tools to profit from false claims about Covid-19 and vaccines. The Instagram accounts, many of which have received multiple flags from fact-checkers, are still posting two months after Facebook announced its latest tightening of rules.
Although neither Instagram nor Facebook profit directly from these money-making schemes, the company's business model relies on keeping audiences engaged. Unfortunately, engaging with some of the content identified by the Bureau could potentially prove hazardous to people's health. Facebook, Instagram and other social media companies, such as YouTube, have regularly been criticised over systems designed to increase engagement drawing users towards extremist or conspiracist content and views.
Lord Puttnam, who heads the Lords committee on democracy and digital technology, believes Facebook and other tech companies are "doing the absolute minimum they believe they can get away with".
"What you are getting from them is Elastoplast and bandages because the problem is the fundamental business model," he said. "The problem isn't what they can put right. It's that actually to put it right they have to alter their business model. If they alter their business model, they will be less profitable."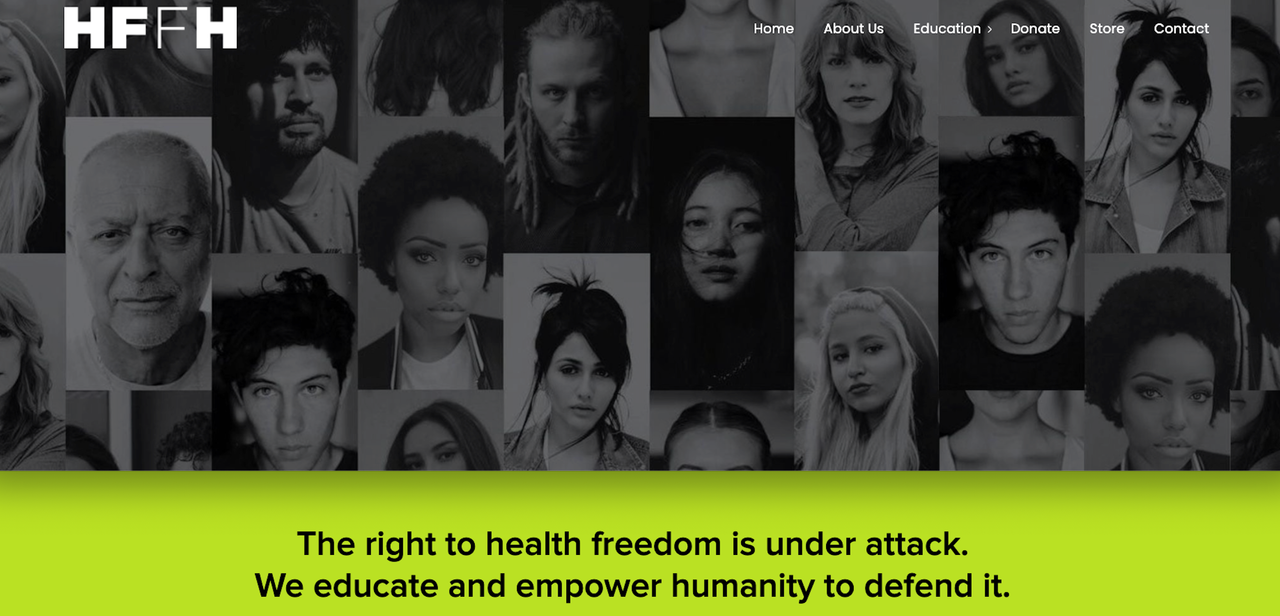 The accounts tracked by the Bureau include a group of Instagrammers who, in January, turned themselves into a formal network called Health Freedom for Humanity (HFFH). The group's website, which solicits donations and sells branded merchandise, makes little mention of vaccines or the coronavirus. But those listed as its founders, board and committee members are some of the loudest voices spreading Covid-19 misinformation online. Many are also making money out of it.
The HFFH's website directs users back to its members' Instagram accounts, and the platform's recommendations for "similar accounts" are filled with other members of the group, as well as prominent sources of Covid-19 misinformation. Many of these are also using the reach Instagram has provided to make money.
The group's executive director and cofounder is Alec Zeck, a 28-year-old serving Army captain and Olympic-level handball player. Zeck's 85,000-follower Instagram page is host to a range of misleading claims, including that the coronavirus has never been isolated. The account promotes HFFH, but also points to a page on Linktr.ee, a startup used extensively by Instagrammers to direct users to other resources, sponsors and products for sale.
On his linktr.ee, Zeck promotes a "Mind Body Spirit Gear" shop selling t-shirts and also points users to a website for Coseva Heavy Metal Detox, where they can buy bottles of spray that claims to cleanse the body and brain of heavy metals for $95 a pop. The page names a "sponsor" who takes a cut of sales under Coseva's programme – in this case Kylee Zeck, Alec's wife.
Zeck told the Bureau: "Our organization comprises people from all walks of life who are united in our belief that mandated medical procedures of any kind, medical coercion, or any restrictions on health choice violate basic human rights."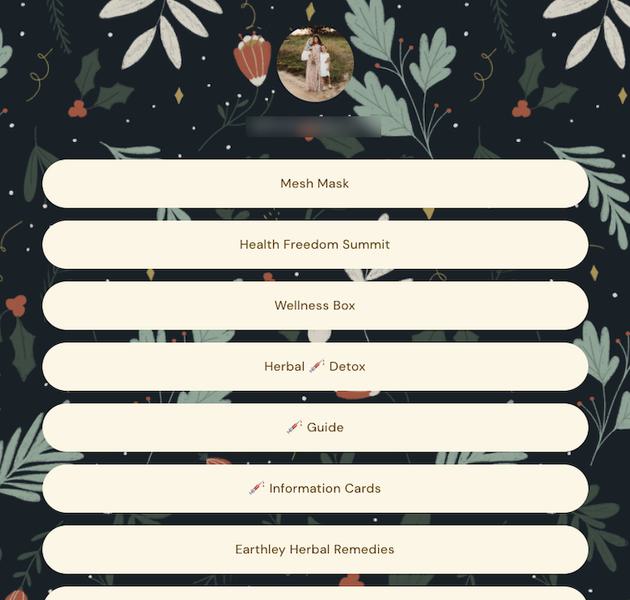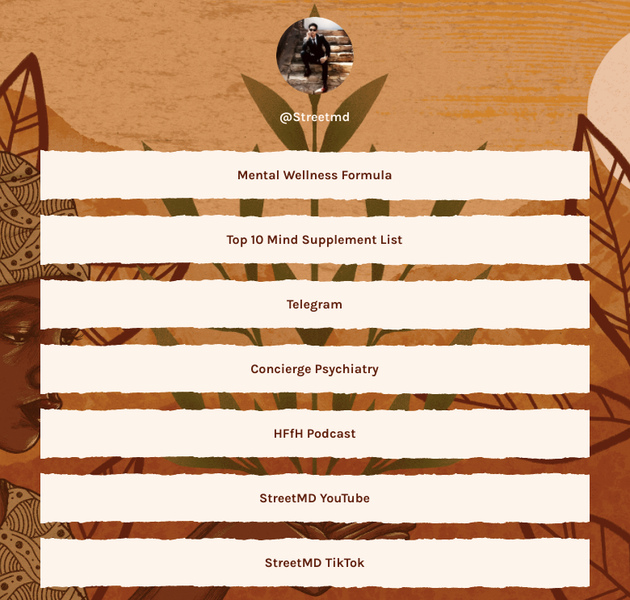 HFFH's vice president is Tommy John, a chiropractor who claims the coronavirus does not exist, a line he held to even after his father, a retired baseball star also called Tommy, was hospitalised with the virus. As well as promoting HFFH via his Instagram, John links through to a store selling t-shirts with slogans such as "It's not a pandemic, it's worse".
Sitting on the group's board is Joseph Yi MD, a self-described "holistic psychiatrist" who runs a CBD oil business called BluWav and is one of four doctors behind a supplement seller called Beyond Recovery. Both businesses can be found by following links from his Instagram page, where he has described the coronavirus pandemic as a "PlanDemic" and the "ShiRONA charade".
Yi told the Bureau he believed masks did not work and tests for Covid-19 were "a scam".
Podcasts, promoted heavily on Instagram, have formed a key main part of HFFH's output. They have featured interviews with some of the biggest names in health misinformation, including Sherri Tenpenny and Christiane Northrup, both anti-vaccine campaigners, as well as Thomas Cowan, who has gained notoriety for his false claim that Covid-19 is caused by 5G mobile signals.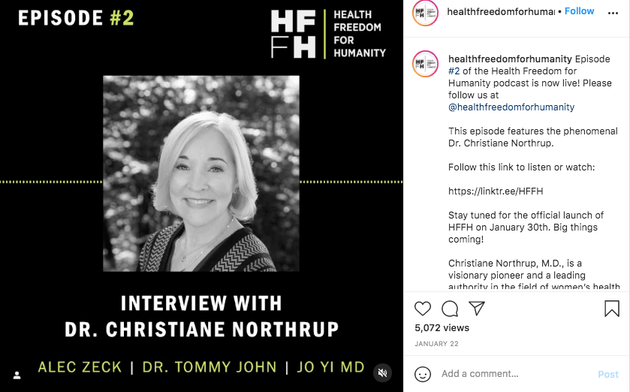 The three combined have more than 300,000 Instagram followers, and each is using their account to sell something. So far this year Cowan's Instagram has directed visitors to several money-making ventures hosted on his own website, including "Marine Plasma Drinkable Sea Water" for $49.95 per bottle.
In the opinion of Nina Jankowicz, a disinformation researcher at the Wilson Center, Instagram's infrastructure is "fine-tuned to create those sorts of networks".
"We see a lot of replicative behaviour, in which they may get banned from Facebook but they will keep their Instagram platform alive and then they will create a secondary Instagram account in case the first one gets banned," she said. "There's a playbook for doing this and keeping your people as you migrate around the web. I think all of that is kind of shared, and there's this sense of trust and community. It's not surprising to me that this happens, because it is what the platforms are made for."
And, as with influencers of all stripes on social media, the profit motive is built into the system. "Even if you don't have a product to sell, there is still some monetisation of everybody's personal brand," said Jankowiczs. "Whether it leads to speaking engagements or op eds or whatever. That's part of being an influencer online.
"A lot of people are driven by the profit motivation, but also celebrity status. It just makes you seem legit when you have something to hawk."
HFFH did not respond to our request for comment, but Tommy John told our reporter: "Make sure you put 'pandemic' in quotes and you reference the expert sources of where we are getting the facts that a virus doesn't exist, the PCR tests are meaningless, and the cases and deaths numbers are fraudulent...oh and mention the censorship and deletion of accounts preventing people from doing their own research to figure out what's best for them regarding their health and medical freedoms."
While HFFH has brought together some of the biggest health misinformation influencers on Instagram, the range of accounts making money from false claims about vaccines and the pandemic is far broader.
The vast majority of the accounts identified by the Bureau have used the Linktr.ee service, which is designed to make it easy for social media users to direct their followers to other content and services they want to promote. The Australian start-up, which raised $45m in funding in March, bills itself as "The only link you'll ever need" and is widely used on Instagram, which only lets accounts put one link on their main page.
Half of the accounts identified by the Bureau as spreading misinformation have also used Linktr.ee to host further misleading claims about the pandemic or vaccines, including content such as the Plandemic videos that social networks, including Facebook, have congratulated themselves on removing.
When the Bureau sent the company examples of the accounts using its service to make money or to host misleading claims, Linktr.ee suspended all of them.
In a statement, the company's cofounder Alex Zaccaria said: "We're committed to building a team as well as enhancing our systems and processes so we can identify and catch misinformation before it reaches a large audience. We have never been in the business of, nor has it ever been our intention to, profit from the spread of information deliberately intended to deceive or cause harm."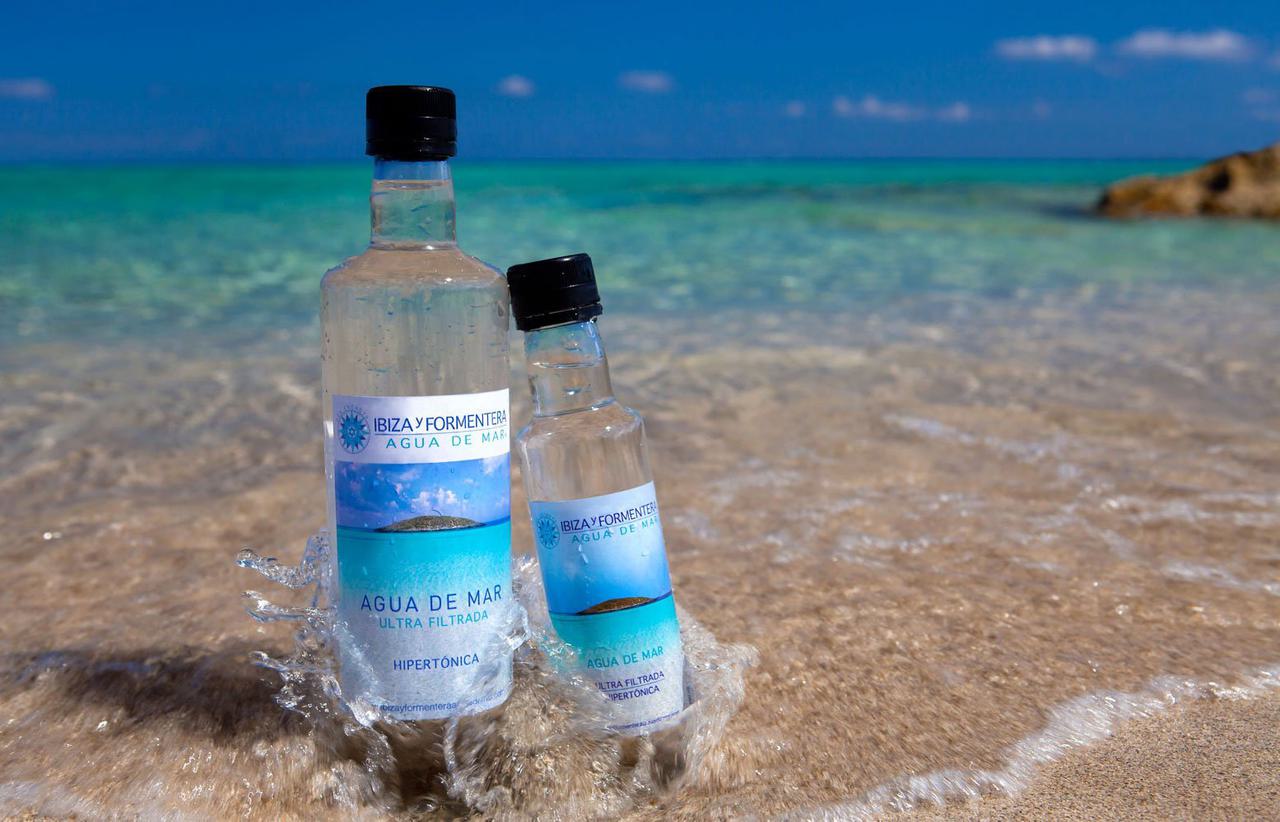 Shop, affiliate, regulate
One of the most common methods used to make money from Instagram identified by the Bureau was affiliate programmes, which provide a cut of sales in return for referrals to products. More than a dozen of the accounts the Bureau found promoted heavy metal detox sprays. Many anti-vaccine groups and influencers have long claimed, falsely, that trace amounts of heavy metals such as aluminium used in some vaccines cause health problems.
Others misinformation-spreading accounts promote supplements and devices that promise to improve their audience's wellbeing, while misleading those same people about the public health emergency taking place around them.
Jankowicz says that Facebook cannot absolve itself from any responsibility for monetisation and misinformation even if it does not take place directly on Instagram.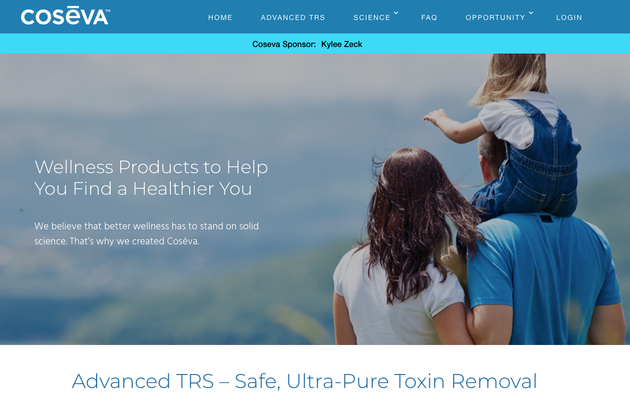 "They are providing the means by which this is amplified," she said. "Instagram will try to shunt this off and say, 'well this is a Linktr.ee moderation platform', but they are providing the tool through which these people are amplifying these links."
Facebook told the Bureau: "We take aggressive steps to remove Covid-19 misinformation, including false information about approved vaccines."
The company is investigating the examples found by the Bureau. Since the Bureau contacted Facebook, the accounts of Steven Baker, Alec Zeck, Tom Cowan and Health Freedom for Humanity have been taken down.
Governments are increasingly looking to regulation as an answer to the problems posed by social media. Late last month, US lawmakers grilled tech bosses, including Facebook's chief executive Mark Zuckerberg, over their companies' role in enabling the promotion of hate and misinformation.
"Your business model itself has become the problem and the time for self-regulation is over," Frank Pallone, a Democratic congressman, said. "It's time we legislate to hold you accountable."
In his written testimony delivered to the committee, Zuckberg said that Facebook had "recalibrated our products and built global partnerships to combat misinformation on a massive scale" and said the company supported "updated Internet regulation to set the rules of the road."
He went on to say that Facebook works "to reduce the incentives for people to share misinformation to begin with. Since a lot of the misinformation that spreads online is financially motivated spam, we focus on disrupting the business model behind it. We take action against pages that repeatedly share or publish content rated false, including reducing their distribution and, if necessary, removing their ability to monetize."
In the UK, the government has proposed new legislation which would requiretech companies to set up adequate mechanisms to deal with problems on their platforms, including misinformation. However, in Puttnam's view, the proposed legislation will likely have little impact unless it is strengthened to ensure groups of people can take tech companies to court over what takes place on their platforms. He believes the legislation as proposed will not solve Facebook's misinformation problem.
He added that the proposed legislation should hold the board members of tech companies potentially criminally liable for failing to abide by its requirements. The Bureau revealed last year that in May 2018 Zuckerberg had threatened to pull investment from the UK after complaining about the government's approach to tech regulation during a secret meeting with Matt Hancock. Puttnam added: "[Zuckerberg] wants regulation that he has signed off on, and has been consulted with, and does not damage his business model."
Reporter: Jasper Jackson
Desk editor: James Ball
Investigations editor: Meirion Jones
Production editor: Frankie Goodway
Fact checker and data checker: Alice Milliken
Legal team: Stephen Shotnes (Simons Muirhead Burton)
This article is part of our Global Health project, which has a number of funders including the Bill & Melinda Gates Foundation. Our reporting on Decision Machines is funded by Open Society Foundations. None of our funders have any influence over the Bureau's editorial decisions or output.
Header image: A Covid-19 hoax protestor dressed as William Wallace from the film Braveheart, featured on Tommy John's Instagram page
Subject:
Misinformation
Covid-19
Social media