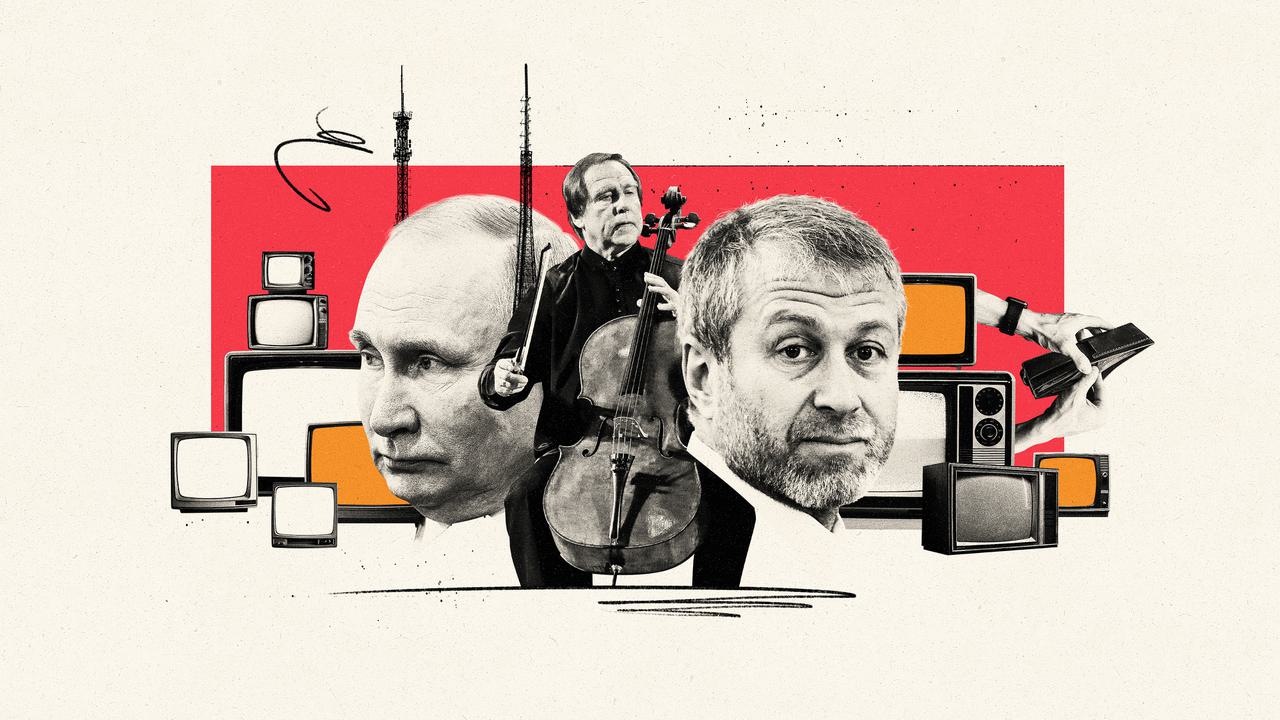 Secret deal links Abramovich to 'Putin's wallet'
Roman Abramovich handed over a secret stake in a Russian advertising giant to two of Vladimir Putin's close friends including the man known as "Putin's wallet", leaked documents show.
The $40m deal, made in late 2010, is the clearest paper trail yet linking the former Chelsea football club owner and the Russian president.
Abramovich, who made a fortune from formerly state-owned assets after the collapse of the Soviet Union, has long denied any financial relationship with Putin and his regime.
The billionaire sued the journalist Catherine Belton and her publisher HarperCollins for libel in the UK after she asserted a financial connection between the two men in her book Putin's People. The case was settled out of court, with the publisher agreeing to clarify some of the details the book reports.
Hear about our latest investigations, before they break
After he was sanctioned last year by the EU and UK, Abramovich brought proceedings against the EU claiming he'd been targeted because of his fame rather than any connection to the Russian government.
But leaked documents, obtained in a joint investigation by the Bureau of Investigative Journalism and BBC Newsnight, part of a global collaborative journalism project known as Cyprus Confidential, cast doubt on those claims.
They show a financial link between Abramovich and Putin via two of his close friends, including Sergei Roldugin, a cellist known as "Putin's wallet".
Who is Sergei Roldugin?
Ostensibly, Roldugin is a renowned cellist and conductor whose glittering musical career has seen him rise to artistic director of the prestigious St Petersburg Music House. He has played to audiences around the world and received accolades such as the People's Artist of Russia.
However it's his decades-long association with Putin that has made international headlines.
Roldugin and Putin have been close friends since their twenties in Leningrad, long before Rodulgin's music career and Putin's days as a KGB officer in East Germany.
It was Roldugin who helped set his friend up with his first wife, and in 1985 he became godfather to Putin's eldest daughter. Roldugin has described Putin as "like a brother to me".
The 2016 Panama Papers global investigation revealed a different side to their relationship. Amid millions of files from the former offshore law firm Mossack Fonseca were details of an offshore network in which Roldugin featured heavily.
These showed how, nominally at least, he owned assets worth hundreds of millions of dollars, including stakes in KamAZ, the largest producer of trucks in Russia, and in Video International.
Roldugin also owned a 3.2% stake in Rossiya Bank. This investment bank proved key to understanding this opaque network. Its owners were a tight-knit group of extremely wealthy Russians said to have strong ties to the Kremlin. Its billionaire chairman Yuri Kovalchuk was described as the "personal banker" for Putin by the US government in 2014.
The Swiss courts made similar conclusions this year when they found four bankers guilty of facilitating payments through the network discovered in the Panama Papers. The indictment said Roldugin was a "straw man" used by Rossiya Bank, noting both his and the bank's ties to Putin.
The leaked documents show that in 2003, Abramovich bought a 25% stake in a giant Russian TV and advertising firm called Video International for just $260,000 – a sum branded "ridiculous" by Vladimir Milov, a former deputy minister of energy for Russia, and now an opposition politician and staunch Putin critic.
In press reports at the time, Video International was said to hold a near-monopoly on Russian TV advertising. A company presentation put its turnover during Abramovich's ownership at $2bn.
"That stake [bought by Abramovich] was clearly worth much more by many orders of magnitude," Milov said.
Abramovich made the purchase through two Cypriot companies called Grosora Holdings Ltd and Finoto Holdings Ltd. These were in turn owned by an entity called the Sara Trust, of which Abramovich was the ultimate beneficiary.
The use of Cypriot companies by Russian oligarchs is the key theme of Cyprus Confidential, a collaboration of more than 250 journalists at 65 media outlets worldwide, led by the International Consortium of Investigative Journalists (ICIJ) and Paper Trail Media. The project shows the role Cyprus plays in moving Russian money, even in the face of international sanctions and despite its EU membership. A long-standing treaty between the two countries which guaranteed a favourable tax regime for Russian companies in Cyprus until August 2023, when the agreement was cancelled.
In the year after the Video International purchase, the two Abramovich-owned companies earned nearly $2m in dividends. By 2010, they'd pocketed more than $30m in dividend payments.
Then, on the same day in 2010, Grosara and Finoto sold their shares in Video International for a total of $40m to two other entities: a Cypriot company called Med Media Network Ltd, and another called Namiral Trading.
Med Media Network was owned by Roldugin, understood to be one of Putin's closest and oldest friends. In 2022, the US Treasury described him as "Putin's middleman" who acted as "part of a system that manages President Putin's offshore wealth". He is sanctioned in the UK, EU and US.
Namiral Trading, meanwhile, is linked in court documents to Alexander Plekhov, described by the UK government as a "close friend of Putin". It has sanctioned him for his links to Putin, citing allegations that his company Vital Development Corporation benefited from "significant state patronage".
Art of the deal
Video International grew out of the turbulent era that marked the end of the Soviet Union. It was co-founded by Mikhail Lesin, who'd go on to become a key Putin ally, serving as his press minister in the early years of his regime.
The company served as an ad broker to many of Russia's biggest TV channels, often securing exclusive contracts and generating millions in consultancy fees. At its peak, it was said to account for about 70% of the TV ad market.
Until now, it wasn't known Abramovich had any connection to the company.
However, the newly leaked Cyprus Confidential documents show Abramovich acquired his stake in September 2003, just weeks after he bought Chelsea FC.
To make the deal for Video International, two Cypriot companies – Finoto Holdings Ltd and Grosora Holdings Ltd – were established. Through multiple layers of companies based in the British Virgin Islands, Finoto and Grosora were ultimately owned by the Sara Trust. The trust, based in Cyprus, had Abramovich as its only beneficiary. The deal made Abramovich one of the company's biggest shareholders.
Abramovich's companies paid just 4m rubles each to acquire two 12.5% stakes from Yuriy Zapol, the president of Video International at the time. Based on 2003 currency conversions, 8m rubles was worth a little over $260,000.
Within a year, Abramovich's companies had earned back their initial investment many times over through dividends. By the time of the sale in 2010, the dividends totalled more than $30m. Combined with the sale figure of $40m, the accounts show Abramovich made a return of nearly 270 times his investment.
The sale took place not long after a wider takeover of Video International by entities linked to Rossiya Bank, a private investment bank owned by a number of oligarchs with strong ties to the Kremlin. The US government, which sanctioned Rossiya Bank in 2014, characterised it as a "crony bank" chaired by Putin's "personal banker". A Swiss court named Roldugin and Plekhov as "strawmen" for the bank.

Although the $30m in dividends and $40m sale was a huge return on Abramovich's initial investment, the sale price again appears low given the company's vast turnover.
After the deal, Plekhov and Roldugin's companies raked in millions of dollars in dividends from their stakes in the advertising business, court records and financial accounts show.
Milov said the revelations add "very significant" evidence of a connection between Abramovich and Putin that both had sought to conceal through the complex web of offshore payments.
"I think this desire to hide it was intentional because Putin needed such people on the international stage who nominally have no connection with him on the surface, but are also very loyal and might be used in projecting his interests abroad," Milov said.
"[Abramovich's] businesses never would have been allowed to operate and earn rich profits without being greenlit from Putin's administration. He was always involved with businesses that enjoyed heavy support and protection from Putin."
Tom Keatinge, director of the Centre for Financial Crime and Security Studies at the defence think tank RUSI, said: "This case obviously puts more information onto the table and further endorses the alleged connection between Putin and Abramovich in a way that becomes increasingly difficult to deflect."
Alicia Kearns MP, chair of the foreign affairs select committee, said the findings showed it was important for the UK government to sanction Abramovich. "For a long time, Abramovich tried to claim that there was no link between him and the Russian regime or particularly President Putin," she said.
"But that confirmation is really important because it's almost like peeling back layers of an onion … [This] gives us the clearest indicator we have yet that everything the government has done is absolutely legally sound, that there is a link."
Reporters contacted representatives for Putin, Abramovich, Roldugin, Plekhov, Kovalchuk, and Bank Rossiya for comment. There was no response.
Header image: Klawe Rzeczy for TBIJ
Reporter: Simon Lock
Enablers editor: Eleanor Rose
Impact producer: Lucy Nash
Bureau editor: Franz Wild
Production editor: Frankie Goodway
Fact checker: Alice Milliken
Our Enablers project is funded by Open Society Foundations, the Hollick Family Foundation, Sigrid Rausing Trust, the Joffe Trust and out of Bureau core funds. None of our funders have any influence over the Bureau's editorial decisions or output.
Subject:
Super rich
Banking
Sanctions
Offshore
Oligarchs